Home > Features > You are here: New Hampshire Trappers Association website
New Hampshire Trappers Association website
By Mel Liston*
It gives me great pleasure to announce that the New Hampshire Trappers Association has launched a new website which has potential to be one of the best such sites in North America. This site, at www.nhtassoc.org, which is the official site for the NH Trappers, will go far beyond the typical nature of most state trapping association web pages. The project is significantly advanced for being developed in a very short period of time and is an all-volunteer effort. At the time of this writing much more is in the pipeline than what is presently posted but the volume, quality, and variety of information should keep most who have any interest busy for a considerable period of time. Found within these pages will be much about furbearer science and links to significant additional sources.
Information is found within the History pages on the Fur Trade/Indian Trade from its earliest start along the New England coast and continuing ever inland and westwards with exploration preceding settlement and continental expansion all the way to the Pacific coast. Links to additional source information will offer opportunities for education and advanced research. The History pages will also house a growing archive of NH Trappers Association history and other New Hampshire-specific trapping related history. This project makes possible the opportunity for an older generation of trappers to pass their knowledge, remembrances, documents or other specific information to future generations before it is lost forever. It is sincerely hoped that many who view this site will share additional information going forwards.
Visit the Hall of Fame pages and read some of the interesting stories presently posted about these very interesting individuals. Perhaps you will find the story of Harry Thompson interesting. Harry is a full blood Native American trapper living in Tamworth and still trapping beaver at 96 years old. Many in the larger sporting/conservation community may remember Alex Troy who worked tirelessly to present trapping before the public and was very emotional in his love of nature. Visit the Stories and Pictures page to enjoy some of his poetry. Check out the story of Harris Ilsley, a man who handles more fur in a single year at age 74 than most trappers will in a lifetime. Thanks to Harris for lending much historical information and artifacts to advance our project. Malcolm Locke of Barnstead gained considerable notoriety during his lifetime as a nationally known trapper. Malcolm wrote three trapping manuals which continue to be sold all over North America but saved the best for last. That's right, there is more to come from G. Malcolm Locke. Malcolm spent the last years of his life in a nursing home and during that period dictated some very interesting and regionally significant journals which have never before been available to the general public. By permission of his daughter, these historically significant documents will soon be available exclusively at this website. You can hear his voice and see his view as Malcolm Locke paints a picture of antiquity over his life and times. Stay tuned for these entertaining stories yet untold, and watch for their first print on the pages of the New Hampshire Trappers Association.
Young or new trappers will find considerable information within our pages to help them get started or advance their skills, as will all who have an interest in trapping, it's history, or furbearer biology and welfare. Let me now quote the dedication portion from the Home page.
"We dedicate our efforts to the advocacy for consumptive use trapping of furbearer species as a necessary and beneficial wildlife management tool and significant component of our outdoor rural heritage. We support and promote ethical means to achieve the overall objectives of conservation and stewardship of our natural treasures including all wildlife and their sustaining habitat. Much of our effort will be directed toward the continuing education of trappers and also toward the public which desires knowledge of our craft, the furbearer species, their habitat needs or interactions with humanity. We shall achieve our objectives in a manner which is environmentally and socially responsible."
The following is an additional quote, being a portion of the message by the NHTA President, Scott Borthwick.
"Welcome to the New Hampshire Trappers Association web site. It is our hope that this site will aid not only our members along with other trappers but also be of considerable interest to the larger community in an effort to understand and appreciate trapping historically and in the modern era. Education is the key to understanding. Please take the time to browse through the pages of our site; we hope you will find it to be both interesting and informative. We will keep you updated on a variety of issues and concerns that are of importance to trapping."
"Now enjoy our web site and learn more about trapping in New Hampshire."
Here are some samples of what you can find on the NHTA website: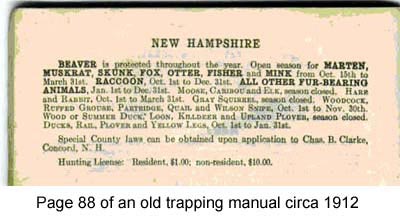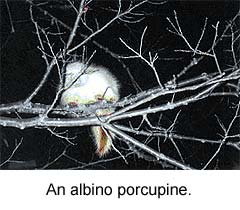 *Mel Liston, from Strafford, New Hampshire is a freelance writer, Trapper Education Instructor, Director for the New Hampshire Trappers Association and a member of the National Trappers Association and the Fur Takers of America.
Copyright © 2005 Malum Internet Properties.


Home > Features > You are here: New Hampshire Trappers Association website