Home > Features > You are here: Rambling Along the Trapline- The Trapper's Year
Rambling Along the Trapline- The Trapper's Year
By Mel Liston*
(Editor's note: Many trapping authors will have a regional pen based on the perspective from their trapline. Mel Liston, from Strafford, New Hampshire is one of these authors).
For most things the calendar year defines the beginning and the end in our correlation of thoughts and activities. Most businesses find it easier to keep records on a calendar year basis for tax reasons even if they have an operating or fiscal year that is quite out of phase with that period. The school year is a typical example; the one that is now finishing up would not be referred to as the 2004 year but instead the 2003-04 year. Fur trapping is considered this way and the catch for the last season would be referred to as the 2003-04 catch. There is definitely a cycle to a the trapper's year-round activity and it is appropriate to designate a beginning and end date. The license to fur trap issued by the NHF&G (New Hampshire Fish & Game) office plus either of the two optional licenses to do Wildlife Damage Control trapping all expire at the end of June. The required landowner permission slips, which grant permission to do legal furbearer trapping on private land and are filed with NHF&G also expire at the end of June each year. So with June ends the trapper's activity season and a new season begins on July 1st. I will now give an example of how a trapper's season progresses.
July
This month begins a long period of efforts to renew property permission, which requires visits to landowners to review the past season's activity. It's the opportunity to discuss any changes or concerns in the permission requested for renewal, have the landowner sign the required state form, and otherwise socialize. Many trappers, and especially those who anticipate the possibility for doing animal damage control trapping for the public will have obtained their renewed licenses prior to July 1st. Most trappers in the state will be looking for an opportunity when they can make a trip to Concord and obtain their licenses at the NHF&G main office. NHF&G's main office is the only place trapping licenses may be renewed; this is because the office will have the record of whether the trapper has complied with a requirement to provide the past seasons information on his or her fur catch or a listing of furbearers taken under the Wildlife Control Operators license. July is a month when many trappers are cleaning, repairing, and otherwise preparing their equipment used in the previous season for the upcoming fur season. All trappers hope to get their equipment in a state of readiness as soon as possible, but many will still be hustling to find the time in October. Many trappers who target fox and coyote will start the summer-long process of making waxed dirt, which is somewhat freeze-proof and water-resistant. Others will be gathering anthill dirt, which has some antifreeze qualities that make it useful for the same purpose. Some who do mostly early season trapping will put up a supply of pre-sifted dry dirt in five gallon buckets. Whatever supply of dirt or coverings preferred by the individual and stored in inventory it will come in handy for winter trapping. The earliest Trapper's Rendezvous' start in late June and there are many to choose from on a regional or national basis so that those who visit these events can take in quite a few through the summer and early fall. Many seasoned trappers will volunteer their time to provide the NHF&G sponsored Trapper Education courses offered beginning in this period. Anyone who wishes to sign up for one of these classes should call the NHF&G Hunter Education office at 603-271-3214. You may view the courses presently scheduled by visiting www.wildlife.state.nh.us/Hunting/hunter_ed_schedule.htm. If you do this you will see that I have a course scheduled to be given on my farm June 27th from 9am to 6pm. I do this every year with another instructor, Bob McMaster of Rochester. We would love to have you join us, but perhaps the class will have gone by when you read this article. After July 15th during the even numbered years, such as 2004, applications and lists of state lands open for trapping can be obtained from NHF&G. Trappers will study the areas available for trapping and file their application, which states their preferences by the second Monday of September to be drawn in lottery on September 20th.
August
This month has trappers continuing many of the same activities as in July but some with more intensity as summer reaches it's midpoint and the next season's trapping draws nearer. New equipment will be purchased over the next several months and time will be required to tune, adjust, and otherwise prepare this equipment for use before the fall trapping commences. Toward the end of this month will most likely be the twenty-eighth annual New England Trappers Weekend event held each year in Bethel, Maine at the home of nationally well-known trapper and fur buyer, Neil Olson. Neil is kind of like the Buffalo Bill Cody of trapping up here in the Northeast. By that I mean that he is a first rate promoter and through the notoriety of his deeds and winning personality he can always draw a crowd. Every year they sell t-shirts at this event and folks collect them just like the bikers going to the Loudon Classic. If you are a trapper or interested in this type of activity, bring your camping rig and join the huge crowd of like-minded outdoor folks for a time you won't soon forget.
September
You still have the opportunity to take a Trapper's Education course and get some equipment ready for your first trapline, but time is running short. Seasoned trappers will have most of their new equipment purchased by now and the old stuff made ready to go again. Most landowner permission renewals should be completed by now but many potential new locations will continue to materialize as the trapper finds time over these last two months before trapping begins. The second Monday in September is the deadline to file the application for a two-year permission to trap on specific state lands, which will be drawn in a lottery on September 20th. If you haven't finished that wax dirt you're out of luck, since the intense heat of summer sun is required in the process. Trappers who make their own lure and bait have been busy throughout the summer making various recipes and concoctions that match their needs. One last trip to the favorite water body with a kid or two in tow should secure enough yellow perch and sunfish for mink and coon bait. The New Hampshire Trappers Association will have its biggest event of the year, a three-day Rendezvous and fall business meeting. Come and camp out or visit for the day. Vendors will be set up to supply all your trapping needs. There will be a program of activities and educational demonstrations on many aspects of modern trapping by experienced trappers and educators. The NHTA Fall Rendezvous is always on the third weekend of September and will be at the NHF&G Owl Brook Hunter Education facilities in Holderness.
October
Last month before the fat hits the fire. Good time to get out on your territory to scout for sign and plan things out before actual trapping starts. If you use an ATV you will be checking your trails for downed trees. Drive the truck along the backcountry tote road to make sure the old bridge is good for another season. Verify the gate key provided by the landowner, sometimes they need to change locks for various reasons and may not have remembered the trapper. Check the truck over well for needed repairs and change the oil now because you won't have time later, maybe get a tune up. Buy your studded snow tires now and put them on separate rims so you will be ready whenever Mother Nature throws the first big snow your way. Buy one new pair of waders and patch all the other boots and waders, which most assuredly leak. Now is the time to stock up on the most severely stinky baits and lures you might desire. If mother kicks you out of the house now it won't much matter, as you were planning to be all but gone for the next two months anyway. In some Counties of the state, trapping for specific species of furbearers starts in mid October, and certain species have no closed season. Each trapper is watching his or her calendar for the start of the annual harvest in his or her respective areas.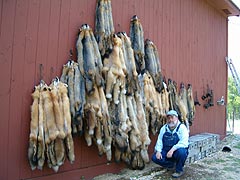 November
Most trapping starts on November 1st, with the exception of the fisher season, which is done only during the month of December here in New Hampshire. All trappers will be making hay while the sun shines, or more specifically trying to catch the most fur possible before the water bodies freeze over and the deep snow and frozen ground make progress arduous. It is during this period that the plans and preparations up to now get tested. Much energy of the previous months was expended to prepare the trapper and position him for results in this period. Some trappers will practice their avocation only for the few weeks that domestic circumstances allow, others have entered an extended period which will persist in one form or another until April 10th when the beaver season draws to a close. The longer the season attempted, the more planning and logistics that were needed in prior months to insure success. It is during this month that most of the furbearing species start to come into a condition of acceptable prime pelt, with each animal reaching peak prime condition at different periods during the fall/winter season. The legal harvest seasons in New Hampshire are established to coincide with the biological period of prime condition for each specific furbearer regulated.
December
During this month the weather conditions make the transition to winter and many trappers hang up their gear, as the going gets rougher. Open water trapping for beaver, otter, mink, and muskrat all become more difficult with rapid water level changes, freeze ups, and thaws. On dry land, trapping for fox, coyote, and raccoon becomes more challenging since the soil is no longer dry, and is often frozen, or buried in snow. One type of trapping enjoyed by many trappers is just now happening. Fisher trapping season is only during the month of December and most who participate will hit the bricks on December 1st. The fisher was once all but gone from New Hampshire due to loss of its required dense forest habitat. With the long decline of agriculture in New Hampshire, most native pasture and previously stripped forest areas have become reforested allowing the fisher to once again thrive. A limit on the total fisher catch per trapper and the need to participate with the family around Christmas time has most trappers slowing down late in December.
January
With Christmas and New Year celebrations behind us some persistent souls will participate through the winter in a variety of trapping ventures. When the water cover on lakes and ponds has frozen thick enough, the most hardy of trappers will venture forth and take beaver through the ice. A few canine trappers will battle the elements to hang more fox and coyote in the fur shed. This is the time when all that waxed dirt comes in most handy. The trapping season for fox ends January 15th, as the fur begins to decline in prime characteristics. Coyote have no closed season and maintain a remarkable condition of primness well into the spring, so a handful of trappers will continue to target them. Every year the NH Trappers Association will sponsor a Fur Sale to which trappers may bring their catch and local licensed fur buyers will bid or negotiate for purchase. This year's Fur Sale was held on January 17th at the Springfield NH Church. There is no closed season on weasel but in winter they turn white and are trapped as ermine. My preferred time to focus on weasel is January or February whenever there is enough snow to run the snow machine.
February
During this month I would still have a few coyote traps out, perhaps a small line of weasel traps, and possibly do a limited amount of beaver trapping through the ice. It's a good month to get sidetracked and maybe play with the electronic game caller, go rabbit hunting with beagles, or catch up on all those trapping magazines piled up next to the bed. There will be a few trappers who are trapping hard for beaver through the ice, but it is difficult to justify with the low prices for fur experienced since 1987.
March
This month looks a lot like February accept that a handful of trappers are watching the ice cover for the beginning of the spring thaw. When the ice goes out, open water beaver trapping from a canoe or small boat can really pile them up fast. Most years this short opportunity to catch a lot of beaver in a short time doesn't happen until April, if at all. Toward the end of March some of the coyote may begin to show signs of hair shedding and generally this would be the time to stop collecting coyote fur.
April
If there is open water many trappers will be busy with the hustle to gather beaver prior to that season's close on April 10th. For those trappers who have territory including muskrat marshes, a similar scramble may be underway. All trappers must file the required report form F&G 83 by April 30th. The so-called fur reports provide information to NHF&G Wildlife Biologists about the types, numbers, and locations by town of furbearers taken and also an indication of the amount of effort expended to make the catch. This information is valuable in the efforts to evaluate furbearer populations and is part of the criteria utilized to determine open season dates and total catch limitation adjustments by geographical area. The New Hampshire Trappers Association has a spring meeting every year which was held on April 25th this year in the fire station at Springfield NH. This is another opportunity to sell fur, buy equipment, observe techniques demonstrated by experienced trappers, attend a NHTA general meeting, and perhaps attend that WCO training course needed to get the class 2 license.
May
There have been many opportunities to locally sell or ship fur to auction houses throughout the season. The final fur auctions and last receiving dates are mostly in this month. Many trappers, myself included, have delayed this inevitable time when we will be forced to let go of the collection that has been building in the fur shed. Similar to stacking cordwood, the trapper likes to look back and take pride in the results of so much spent labor. All through the season folks come by and purchase fur to make hats, blankets, or other garments. An increasing number of people seek us out to supply them with whole animals for taxidermy purposes. All are amazed at the beauty of the hanging fur and the numbers collected. I often have people who visit my farm stare in amazement only to say, "Gee, I had no idea that people still did this kind of thing." If it were not for the approaching warm weather along with various insects, which would damage the hides, some trappers would probably keep their fur collections even longer. So this is the month to let go for those who value their furs the most.
June
The fur is gone and the time to clean up and start anew approaches. Those trappers who did wildlife damage control trapping for the public will be submitting the Wildlife Control Operator Reporting Form by June 30th, which covers the previous period from June 1, 2003 through May 31, 2004. And so the cycle is complete and we start again. The phone is ringing off the hook with calls from road agents, farmers, forest owners, and homeowners all in desperate need of a trapper to deal with problem critters.
*Mel Liston, from Strafford, New Hampshire is a freelance writer, Trapper Education Instructor, Director for the New Hampshire Trappers Association and a member of the National Trappers Association and the Fur Takers of America.
Copyright © 2004 Malum Internet Properties.


Home > Features > You are here: Rambling Along the Trapline- The Trapper's Year