First, make sure your springs are good. Bad springs are not a good thing.
Raccoon: The big issue with raccoon trapping is always foot damage. Usually, the 1.5 coilspring has a small enough arch to the jaws as the raccoon can't get his snout underneath to create issues. Other ways of combatting this issue is dog-proofing your sets and drowning wires. I'll explain a few options below.
Option 1: The Pocket Set.
The pocket set is probably the most popular set used by raccoon trappers. Since raccoons do not salivate, they have two options. They can stay near a water source, or their food can be inordinantly high in moisture. High land coons that eat large amounts of berries and fresh corn do not necessarily need an immediate water source, where as many woodland coon can often be found around streams and rivers, or small ponds.
Begin by finding a nice high bank, or an overhang. If this is an area where flooding is likely to occur, try to find a spring pool (where the stream is fed by a natural spring where the water levels are less likely to fluctuate). At water's level, dig out and slightly up with your trowel, approximately 8-10 inches in and approximately 5-6 inches wide. You do not want the width of your hole to be any larger than the jaws of your trap in case there happens to be a mink passing by. Slick the sides with water, and place your bait in the back of the hole. Fish works well, as do fruit baits for raccoons. Just below the surface of the water outside of the hole, cut a little into the sloping embankment so that you have a nice flat area to set your trap. A little bit of fish oil can be rubbed on the upper lip of the hole if you choose. Stake your trap out in the middle of the stream, or if it is deep enough, wire it with a short chain to a drowner wire.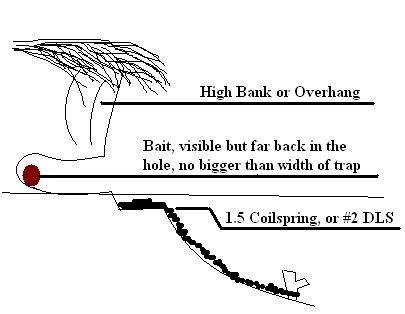 Option 2: The Fish Stick Set
This set is always a good producer for me with regards to raccoons. First thing I like to do is find a good game trail crossing a stream. I do this for a couple of reasons. 1, most animals tend to cross where current is less. 2, I already know that this is an animal superhighway, so I know raccoons are likely also going to be using it at night. Then, I gather 4 medium/large sized stones, about as large as basketballs, and place them in the middle of this shallow crossing, about 1-2 feet out from shore on either side. Then, I'll cover this rock pile with sod from the shoreline, creating a muddy island. In the center of the 4 rocks and through the mud, I'll shove a wooden tomato dowel so that 24" of it is sticking up. On this, I'll impale a small carp, or chunk of larger carp. You may have to shove it through the mouth of the fish as sometimes it slides down otherwise. Then, in the mud, I'll lightly bed 4-1.5 coilsprings that are staked out in opposite directions in the water. This is important as you don't want them ruining the set for other animals, as this set will often catch doubles. Cover the tops of the traps with dry grass.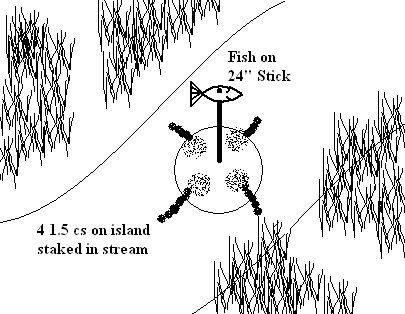 Here are a couple of good sets for fox. But remember, if you have a good population of coyotes, you may risk catching one of them. A good 1.5 will hold a coyote, even though it's not something you should strive for. It will also hold a bobcat, but as with coyotes, you'll have more pull outs and educated animals than you will restrained ones.
The Flat Set:
I enjoy making these sets just off of truck paths around the edges of fields. Foxes are predators, and as such have very little body fat. Their diets are high in protein, which means energy, but it doesn't mean a whole lot in reserves. This means they often try to take the path of least resistance as it burns fewer calories, which are a precious commodity, especially when you need that energy to catch dinner. Often, a fox will trot down a tire rut, poking his nose in various tufts of grass here and there, looking for a mouse, or bird, or bug. It's for that reason, I enjoy setting these flat sets just off the beaten path, about a foot or two feet from the rut. I'll knock down, maybe even hoe a path of my own, to my choice of backing, which could be a peculiar tuft of grass, a multifloral rose bush, a small stone, or a cow-pie. Then, with my stake, I'll punch a small hole about 6 inches deep under at a 45 degree angle beneath my backing. With the tip of my stake, I'll then take a cotton ball that has a food lure, usually mouse juice, and shove it down in that hole. You can choose to cover the little hole partially, or leave it exposed. if it's really really cold out, I'll cover it with some leaves for insulation. If it's not, I leave it exposed. The hole is only half an inch in diameter, so it's not there for eye appeal. I bed the trap very close to the hole, no more than 4 inches away. If you choose to squirt urine on the rock, you turn it into a post set. Both are effective. When done, the set should look completely natural, like nothing has taken place. Not like the dirthole where it looks like a small animal has burrowed. By placing the trap close to the backing, you lessen the risk of catching coyotes.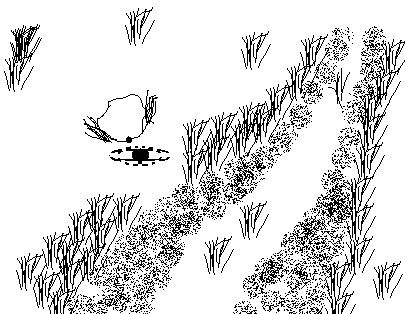 The Dirt Hole:
This is an oldie, but a goodie. The point of the dirt hole is to make it look like something has burrowed underneath the backing, like a mouse. So you want the backing to be larger, more permanent like a large rock, bush or stump, and you want the hole to be larger like 1.5 to 2 inches in diameter. I always set two traps in the dirthole sets because you don't know from which direction the animal will come. Canines are wary, so you have to be very careful and make sure any stepping guides or fencing looks natural. Foxes aren't as wary as coyotes, but they're still wary. This diagram is geared more for coyotes. For foxes, I might move the trap a little closer to the hole, but the width apart is appropriate.