My boys and I spent last weekend trying to hunt wild turkeys out in a county close to the Missouri River in my state of South Dakota. A pretty problematic situation in that its late in the season because the birds have been hunted hard, are scattered especially on publicly accessible land, and good turkey habitat is either few and far between or is inaccessible. But most days out in the field are better than one in the office or on the couch, so we gave it a try.
We tried pretty hard but by Sunday morning well after sun up things were looking dim. But then again things can change in a hurry and my younger hs freshman (who is the more aggressive hunter) ended up bushwhacking (South Dakota style) a nice tom. What was ironic was that he ended up getting this one about 150 yards away from a chance encounter last year.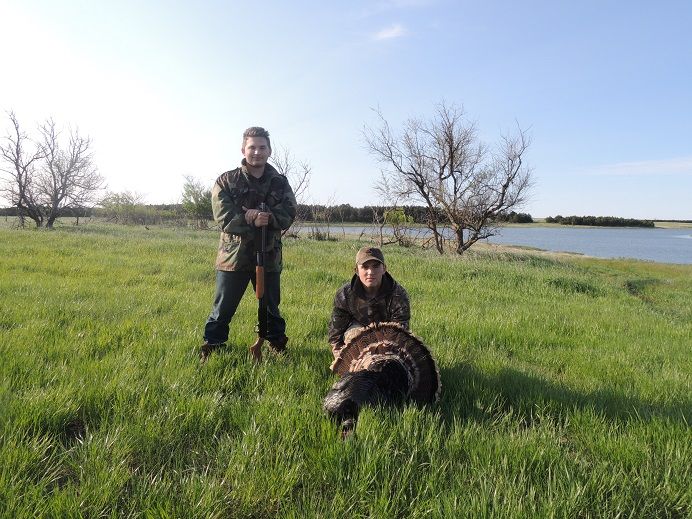 I'll take 1 out of 3 birds in this type of situation although I think dad should get to fire a shot in at least every 3 years or so...
A bonus on the way across the county on a township gravel road (most of the township roads are gravel), we came upon a freshly roadkilled badger. The fur of course looked like crap but the front feet were in good shape and I hoped the skull as well. I threw him in the trunk and then later at home cut off and skinned out his front feet (1 nail was busted off the others were in good shape). Hopefully I can sell the borax dried feet on ebay for $5-10 a set.
Alas, the skull was busted up from him getting hit on the road but I did manage to get out half of the lower jaw that had both both front canines (if that's the proper call for them) and part of the sides of the upper jaw with a canine each. I boiled these a bit but I think I'll throw them on an ant pile that is in my wild grass area of the back yard and see if the bugs, sun, and rain with clean them up more. The bottom jaw thing is sort of unique in that I think mr. digger had a Bill Murry
Caddyshack
slur in this jaw. The big teeth aren't in perfect line of each other across the jaw and this actually makes holding it a bit nicer. Maybe it can be made into a nice little knife handle when all cleaned up!