Well finally the rains slacked up and all the hunters were out of the woods at my lease down in southeast Texas and so I loaded up to go down for 10 nights of camping and trapping.
Sunday January 25, 2015
Made it down to Camp Winky, got the camp opened up and ready for some camping. Went out and got 12 traps out before dark.
Monday January 25
Caught a coyote very near my camp.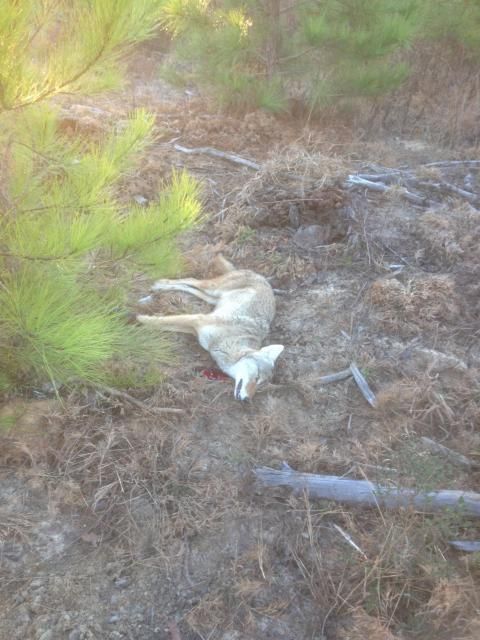 Then picked up a nice red fox.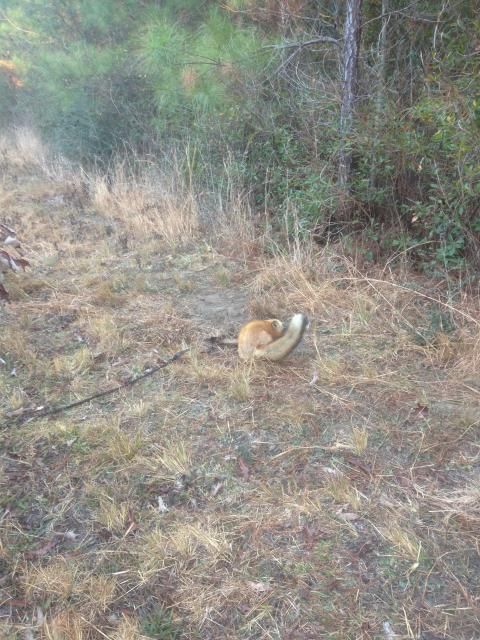 Red fox are not all that common in my hunting lease. I also caught a dog and released it. The weather had warmed up but I managed to get more traps out and killed a snake on the way back to the camp!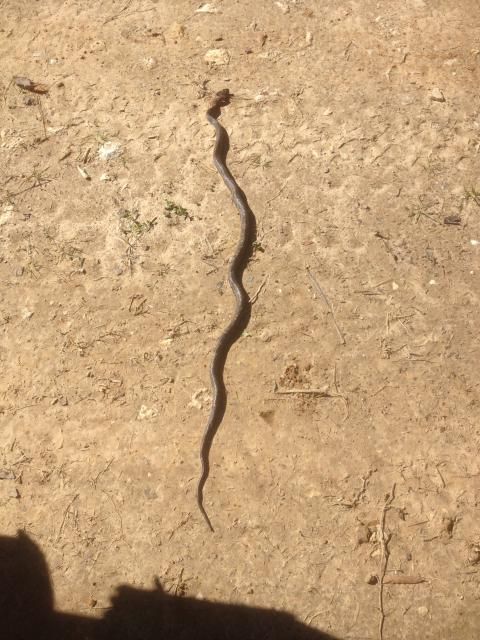 Back at the camp I skinned, fleshed and boarded the coyote and red fox. The Ol' Hatchet flesher was put to use.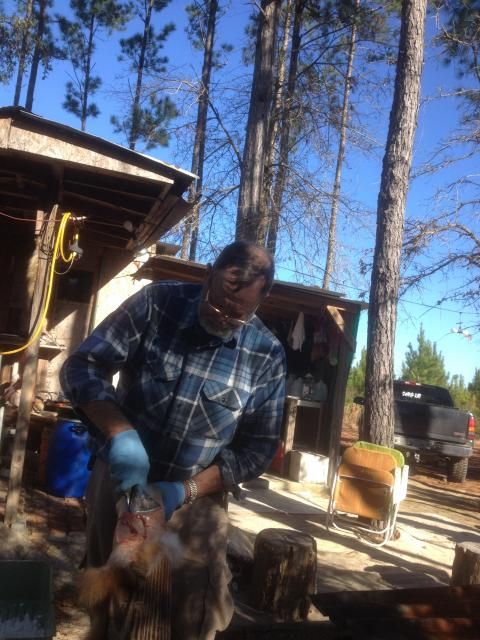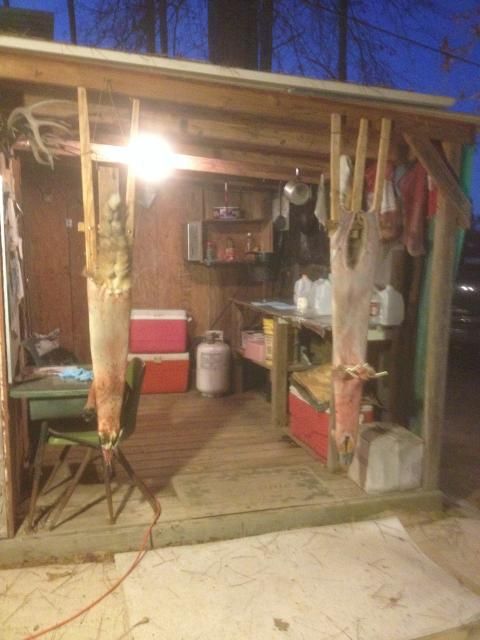 I had to do a little touch up on the hides after dark.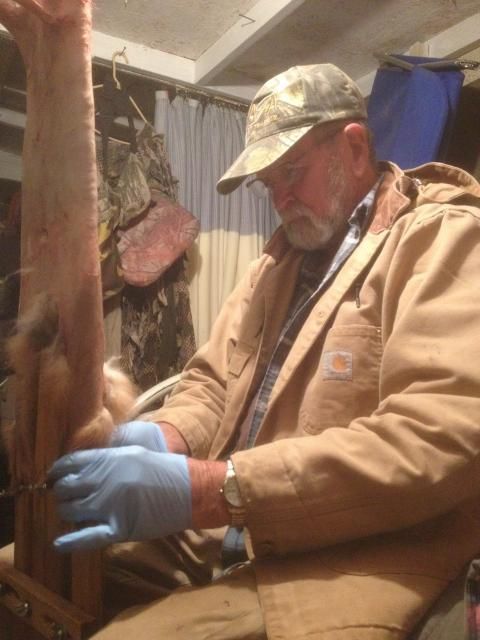 Wednesday January 28
I caught 2 coyotes, a very large swamp rabbit, 4 possums and a coon that I released due to fight wounds. While putting out some otter sets I found two different otter toilets that had duck feathers in their scat.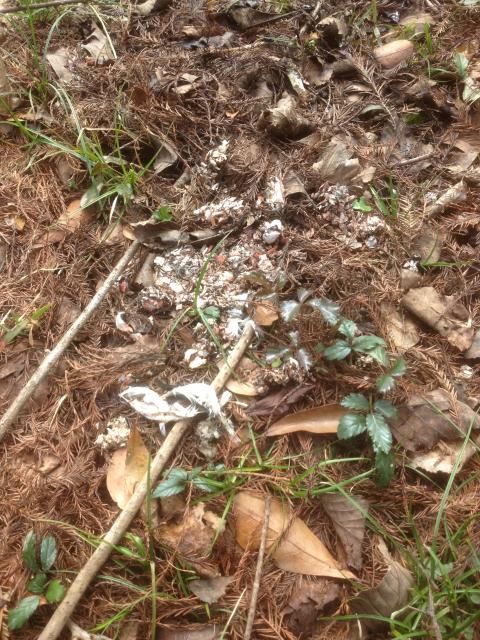 Made more sets and then back to the camp to skin, flesh and board the coyotes. I got the coyote and red fox hides turned.
Thursday January 29
Caught 5 possums, snared a coon but released it due to damage to hide,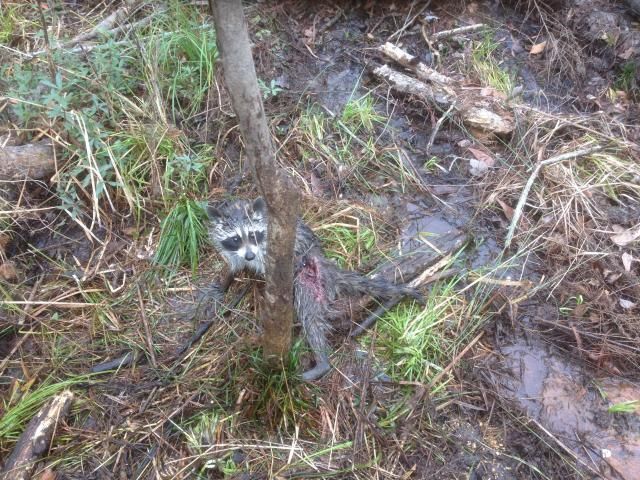 caught a large male otter.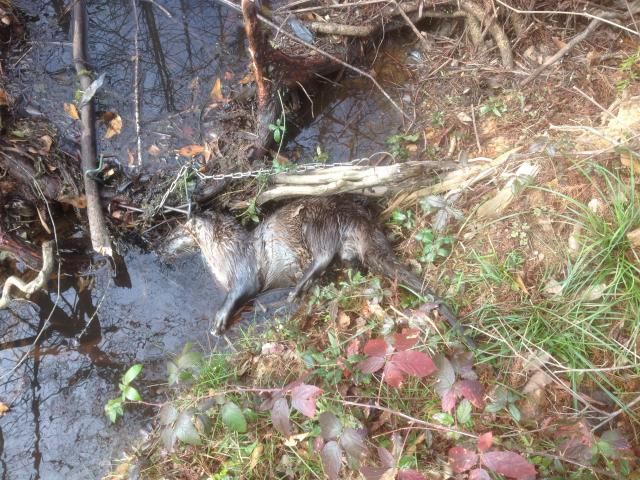 [/URL]
Got more traps out, made it back to camp and skinned otter and put it's hide up, then turned the coyote hides.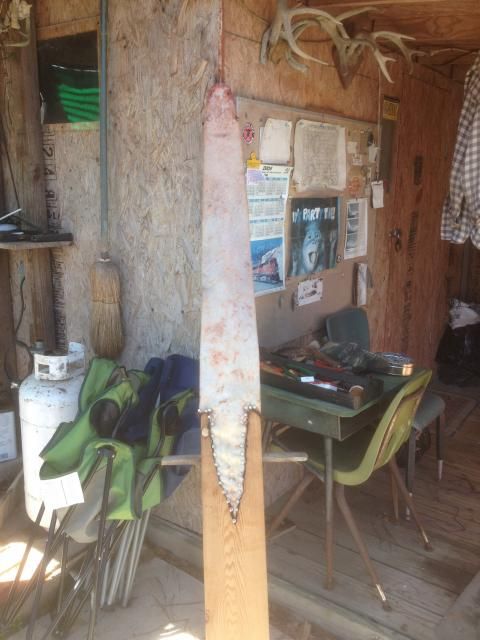 Friday January 30
I caught a good sized bobcat and it was on the side of a tree and as I walked up with my choke stick it leaped to another tree....in a flash!

It was caught by only one toe and that did have me concerned but I did manage to get the cable around it's neck without a problem. Just before it expired it bit itself on the shoulder and thus was lodged in the tree. I had to pry it's mouth open to get it out of the tree.
I also caught 4 possums and could hardly believe one of them was caught by it's tail.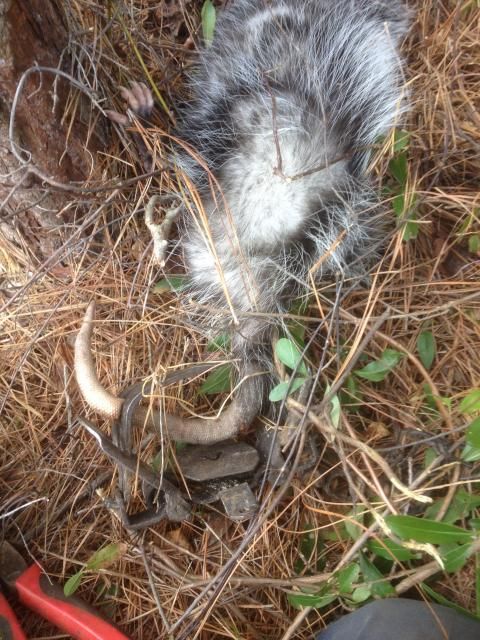 I lost one trap to log skidders. I knew where they were going to be cutting and removed one of the two traps I had in there but thought the other was safe because it was in a section of small trees. Well that is just where they made their skid road to their log set! Back to camp and skinned, fleshed and boarded the cat. I then went out to my friend Festus' house and helped him get caught up on some of his fleshing and boarding. They had a death in the family and he was busier than a one armed paper hanger! First off he tried to convince me to use his Necker Knife...after my trial in Kansas with Amak and Wolf, I knew that wasn't for me.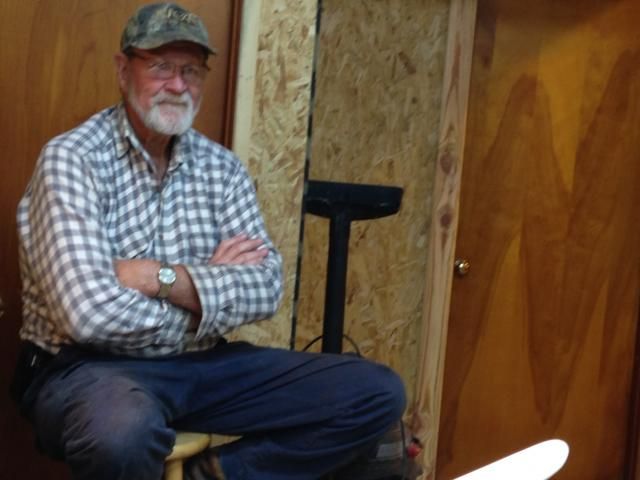 So we agreed he'd use his Necker Knife and I'd use the Ol' Hatchet Head.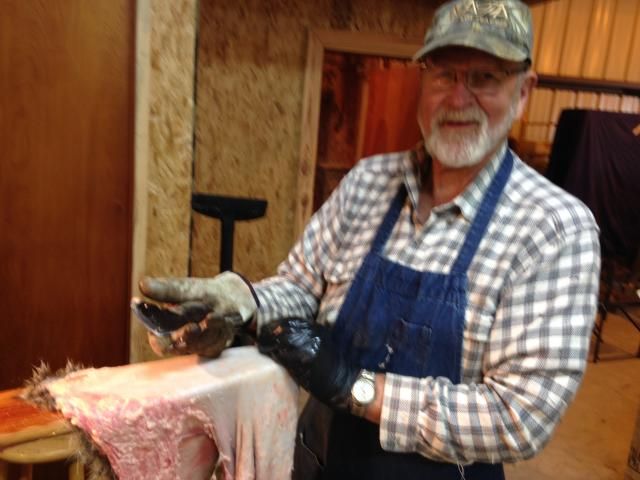 It worked out very well for the both of us. I was impressed that he'd gotten the hang of using the Necker Knife so well. This is his first season to use one. After helping him and getting a free meal out of the deal I headed back down to my camp and no sooner got there than I heard a dog carrying on in a trap near the camp! I went and released it....that makes 3 dog catches so far!
Saturday January 31
My eldest son came in to run traps with me. Caught a bobcat where I'd used the swamp rabbit for bait,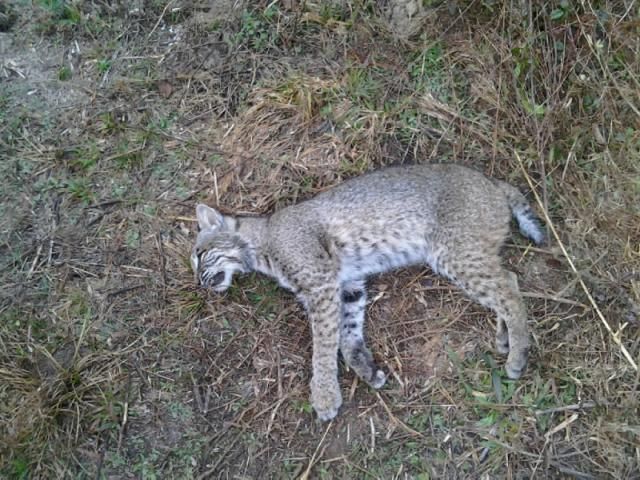 Then we picked up a nice boar coon in a coyote set.
I found a couple of sets that had the attractors pulled from behind the traps but the traps were not thrown. As we came upon one set it was evident that there had been something in the trap for a good while but had escaped due to the jaw popping out of the Victor #2 CS!
Looking around it was easy to see it had been a bobcat in the trap. Replaced that trap with the only other trap I had available...another Victor #2CS.
As we were checking some otter sets I was showing my son my new trap setters and the spring just flew off into the woods!

Well once back to the camp I had to rummage around and find a spring to replace the old one. Sometimes you wonder if you get what you pay for?
Skinned, fleshed and boarded bobcat and coon.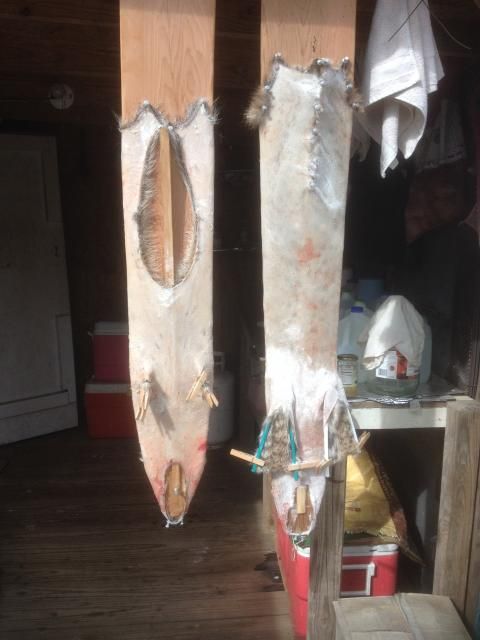 Sunday February 1
I caught 6 possums (Redrooster would be so proud of me), another dog, a coon, a grey fox and a bobcat. I have noticed our grey fox are not the least bit timid while in a trap and fight about as hard as any animal when they are approached. I know they are easily handled once fouled but until then they are very active.
The bobcat was in the same set that I lost one yesterday and the Victor #2 CS did what it was suppose to.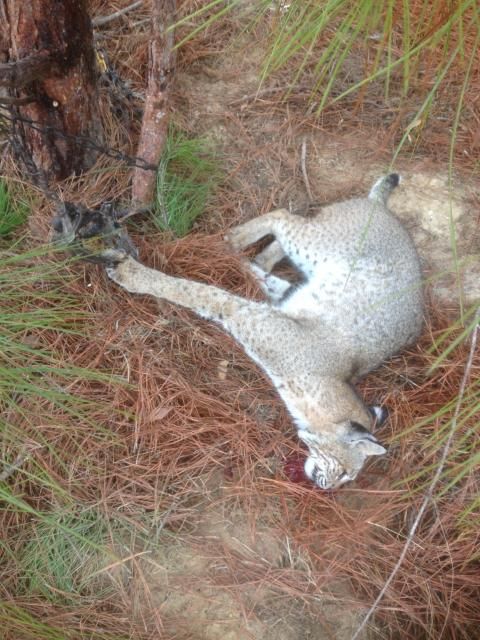 For some reason the cats have been retaining a very good amount of urine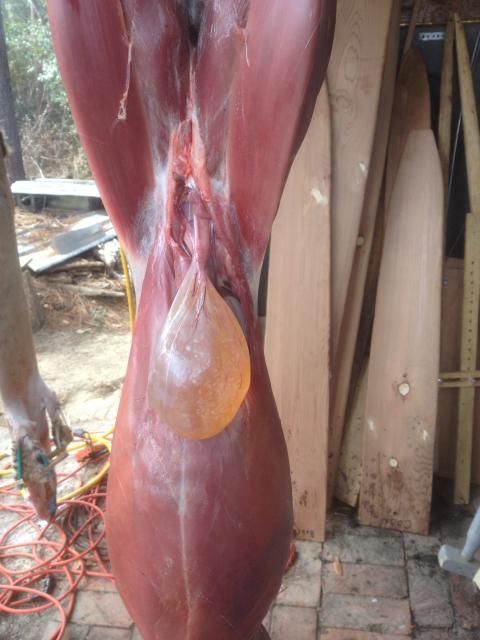 So with a surplus collected I was able to save some back to share with my friend Festus. He and his wife invited me to come out, shower and have supper with them. So I went out to a laundromat, washed my clothes and then went to their house to clean up and have supper. It was then back to camp to turn some hides.
Monday February 2
Caught 2 possums, 1 crow (released), 2 coons, a young male otter,
and an alligator snapping turtle that would weigh about 25-30 lbs. Sorry folks, I didn't have my scales with me.

It was caught by it's top "beak" in a 220 otter set and was unharmed. I took the 220 off and pulled it out on the bank of the stream for pictures and it ambled back down into the stream and found a comfortable spot to sit on bottom.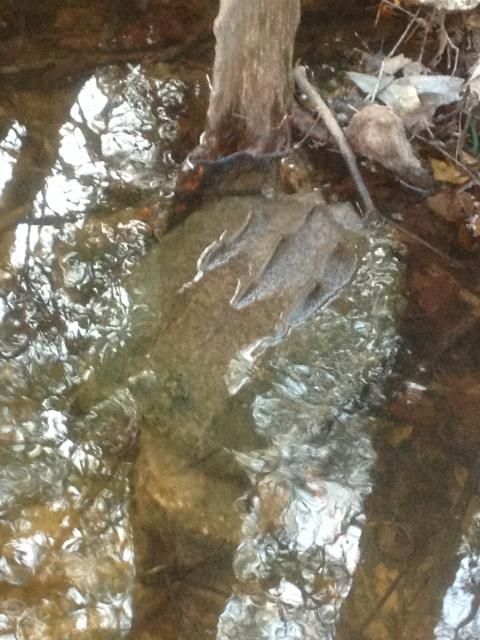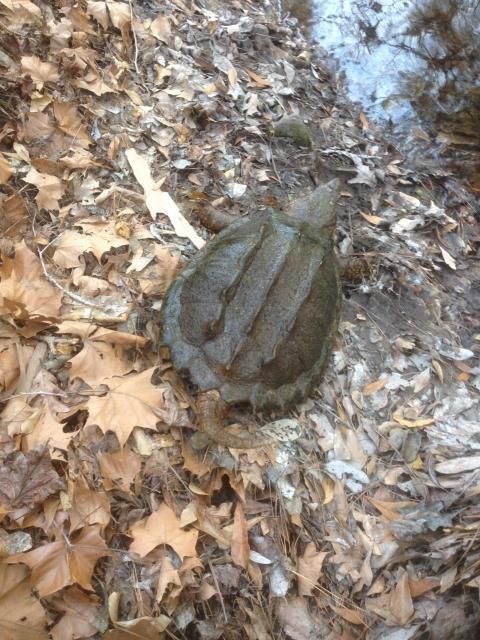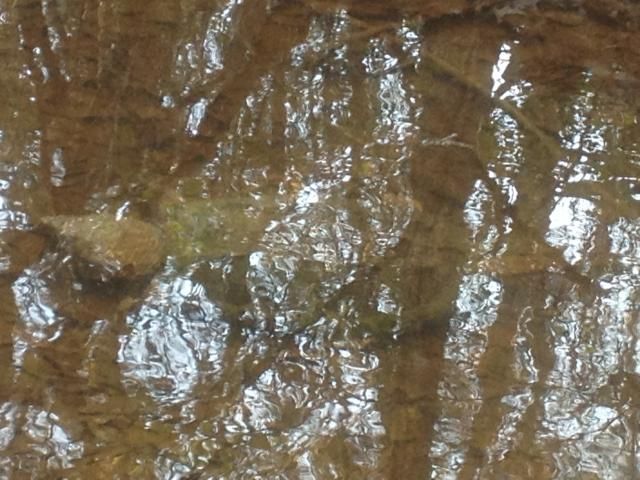 That was my second time to catch a alligator snapping turtle in a 220. As I ran my other traps I found 2 with my stepping sticks in the jaws, that was not what I'd hoped to find in my traps.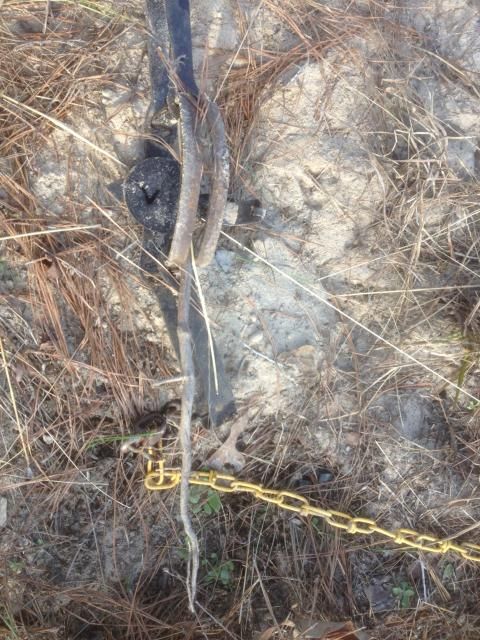 I also found a #4 LS that had been thrown but the jaws didn't close. It is a second hand trap I'd bought, but can see it needs some tuning up! Back to camp and took some hides off boards.
Tuesday February 3
I saw where an otter had visited a toilet set that I had 220s at but the otter did not get in either of the traps. I did catch a coyote near my camp and after dispatching it I took it on back and weighed it, leaving it on the scales until I returned from running my other traps. I caught another coyote and two bobcats.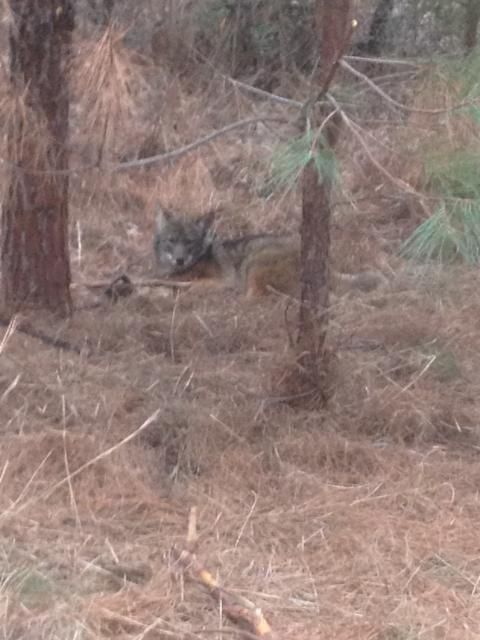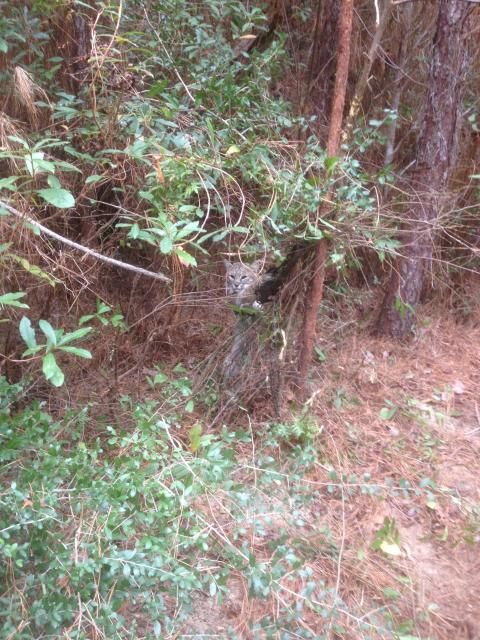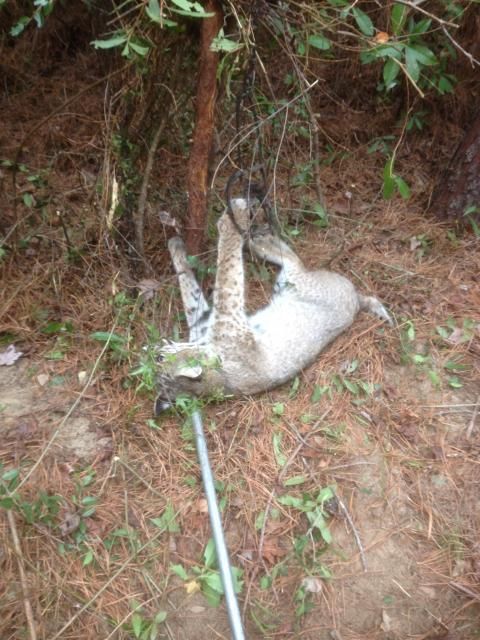 The last cat I caught was in the same set I'd lost one and caught one. When I got back to camp and walked over to remove the dead coyote from the scales, I realized it was NOT DEAD! I re-dispatched it! You can't be too sure with .22 shorts.
The lighter coyote had patches of hair only on the back of it's neck.
I skinned the dark coyote and the bobcats. I put the coyote hide in the cooler to finish at home and the cats I skinned, fleshed and boarded. Festus came to the camp and took some pictures of the hides I had collected.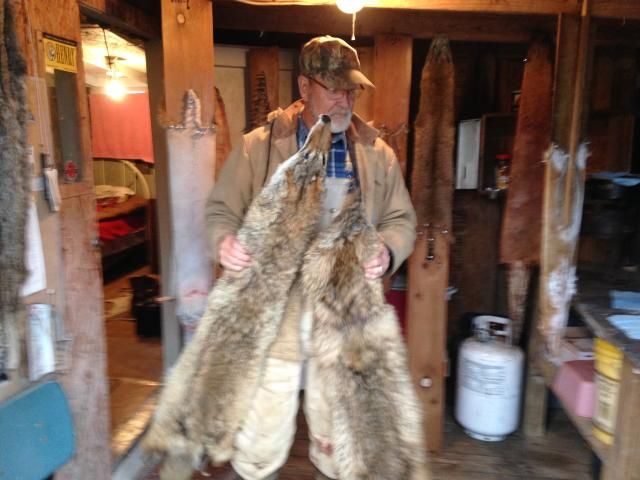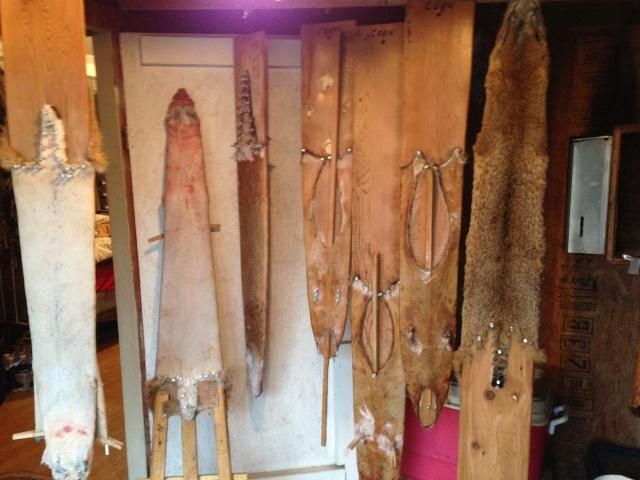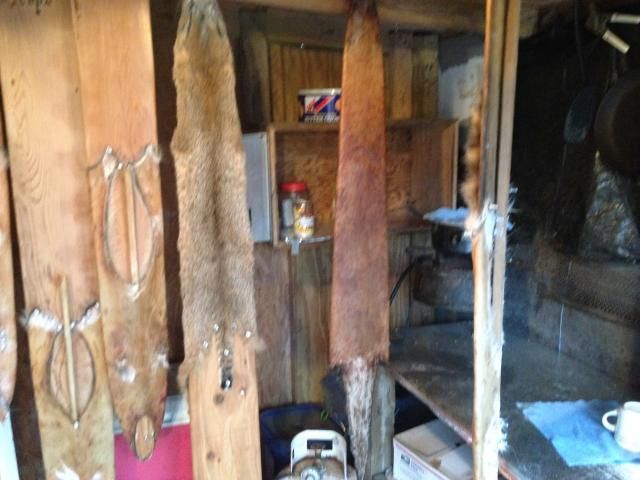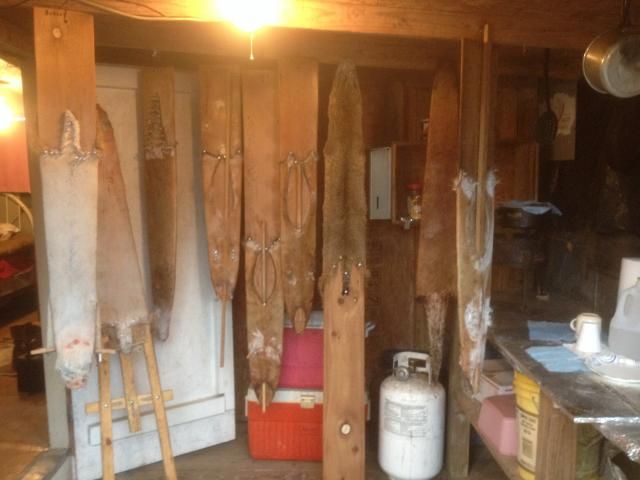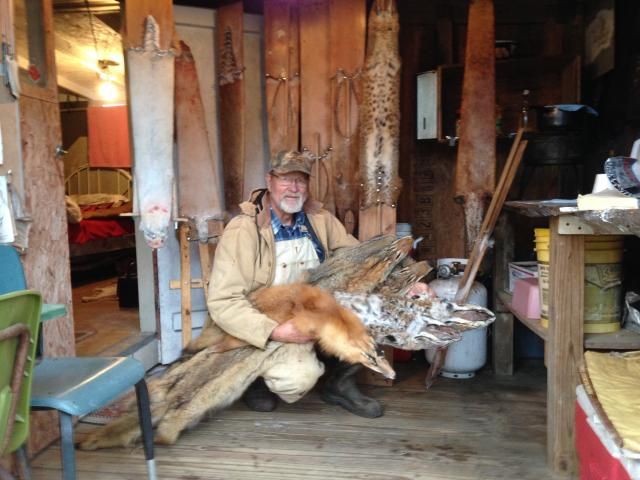 Just when Festus was making me feel pretty good about the furs I'd taken and put up he asked if I'd like to go out and visit another trapper, CC Gore, who has been working at catching some stuff? I said "sure" and then when we got there I got to see what a Real Trapper has hanging in their fur shed! I think there are 29 finished bobcats behind us in the picture!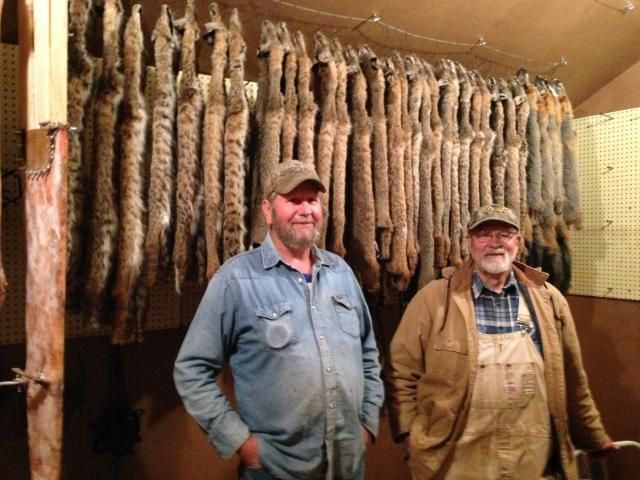 Wednesday February 4
I ran traps and finished pulling all traps and snares. I did catch another grey fox and a bob-tailed boar coon. Back at the camp I skinned both and put the hides in the cooler to finish when I got home. I loaded all equipment, closed the camp for another season and headed home to unload. Another season of memories gathered down at Camp Winky.