The barrel has been lifted 3 " on every bait trip. I am out of reach.
It really needs to be 6 " to 10" higher, then 1/2 the bears would be gone!! But on a greasy log , It is where it is this year.
As you can see, it is getting up there.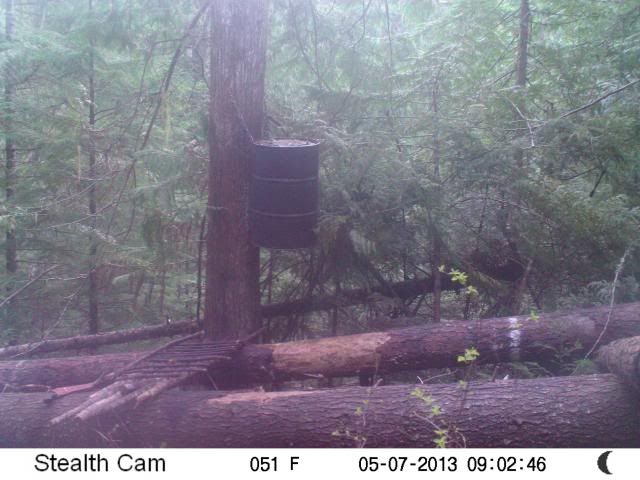 But the 160 to 190 lb bear are still devouring it.
Pipe took a 30 loaf load up Wed. Morning, the barrel was empty.
Pipe took a 40 loaf load up this Am before work, the barrel was empty again. Just part way up the hill the cart broke. I felt a harder pulling... looking back I saw one wheel sticking out sideways on the ground. Sooo, It was all manual , today. 2 trips on back... then on the return, had to carry the cart out.
Pipe picked up 50 loafs today and will back up in the morning.
Yes Doc...we have all phases. mostly young.
.The bottom right is 32" off the log. Hole at 45". top at 68".
I am still a beginner , so with a short season if their back is at the bottom of the barrel.....brown is down.
This is above the approach log. They have a pretty good trail coming down this ridge now. (I could set a double long spring right on their foot print!!! .)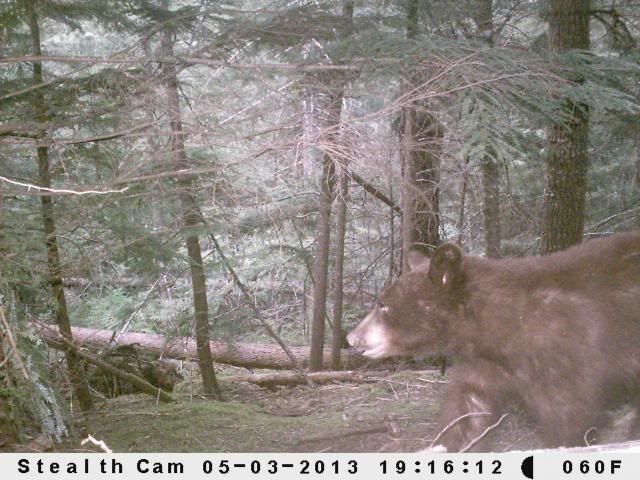 small sow staging
Just 6 days left!
A slightly different barrel design is in the works for 2014!!