jase wrote:
I have dealt with that before. In the instance that happened to me, it was the same thing, hole mostly exposed, and rats were pushing heavy vegetation along with a little mud into the opening. What I found, was that often, rats will have several holes and tunnels that lead to the same living area in the bank. With one of the holes exposed, they feel vulnerable to weather and predators, so they plug it up temporarily until they need it in the future when water levels are sealing off the entrance, then they are apt to use it again. I found they were using a hole very near where the hole they were plugging was. It rest lower and in the water column, and a bit out from the shore line, and off center to the side by a foot and a half. I took several rats from it, and removed the matter from the exposed hole, and they never blocked it again while I trapped the pond so I am guessing I drilled the same rats. Before, I would move the vegetation with a trap in front like yours, and they would simply block it off again.

On the other hand, that is just what I got from the experience, and could very well be what Happy trapper described,,,,, I have had beavers do similar things when I know they were spooked a little.

Hope you catch them!
Thanks for the tip on the plugged hole! I dug around the weeds and found the other hole. I put a 110 in there and got one

. The muskrats are starting to build a muskrat house so I put a 1.5 rubber jaw cs at the base where they are coming out of the water and I caught one. I also caught a muskrat at the den where I caught some previously. There are more rats in that pond than I thought.
Catch of the day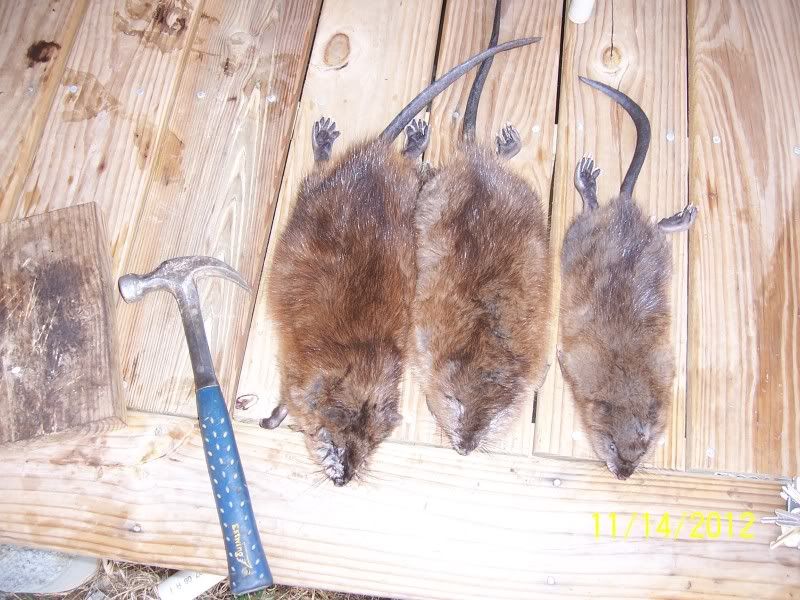 The muskrat house, i found a hole in the bottom and put a 110 in front of it but i didnt catch anything. They must not be using it yet. I put a 110 at the base of the ramp
A few holes I found