---
A bait run was made Tuesday. I was going to surprise them Friday, on the third day. On the ground.



____________________

Another great day in creation and a fulfilled quest.

When turning up my creek road, I said aloud "Start thinking bear".
There was no one else in the rig.
I slowed , looking for the small pullout, well below the trail head.
There-- on the right. That tall burnt sump was never there. " No pipe that is a bear" .
So the customary thing, running and looking for ghosts was done.
O.K. back at truck. " Get serious ".
Heading in on foot , Pipe knew from bumbled camera work, that bears were working the site from 11:00 A.M. on.
" Slower, look. "

A dark shadow rolls off. It was a large raven.
No, there is something else. Yes- bear.
I go down. Bear stands up, at feeder, goes down.
The 4 legged non collapsible chair was set on the sloped ground. It was a lousy rest. It was shaking all over the place.
Bear up- down. Up- down,up-down.


I am low, left and back of camera.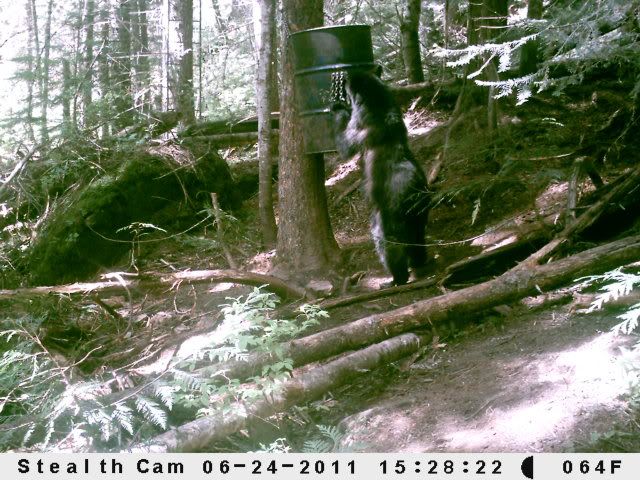 At the shot the bear headed down hill for the creek.


Looking for a bullet hole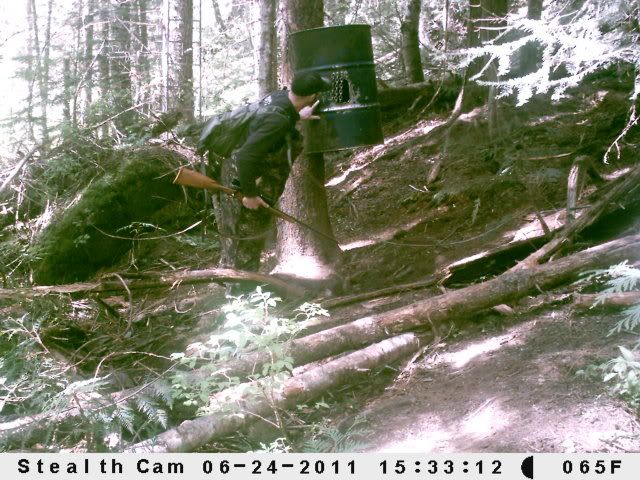 The crimson trail clearly showed a crossing. A little upstream, I crossed the, mostly white water on an old 3' in diameter cedar.
The top of which was worn flat from wilderness traffic.
The bear was found in what looked like a bed. Or a blind.
Sure enough, when I climbed in and looked, there was a hole in the foliage that had a small direct view back towards the site.



A little bigger than average-- 190lbs.

In the process 7 non shooter bears were weaned from the site.
He was the 2nd smallest out of the 7 there now.
But I really wanted something to upholster my 44.


1st load out