Home > Trappers education > You are here: Live traps explained
Live traps explained*
Live traps are sometimes called box traps or cage traps. They are used to take animals alive. The trap is in the shape of a box. The animal enters the box and a door closes behind it.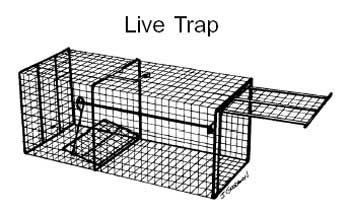 The advantage of live traps is they do not grip the animal. A captured animal can be released easily. Live traps can be effective where the likelihood of capturing a domestic animal is high. These traps can be used safely around houses, barns, or other dwellings.
Live traps are expensive. They are also bulky and hard to transport. Because of this, they are not practical for everyday trapline use. Some animals, like fox and coyotes, will not readily enter a live trap.
One good use for live traps is removing raccoons, opossums, and skunks from buildings. Performing this service can help establish good trapper-landowner relationships.
*Editor's note: This information has been copied from the Ohio Division of Wildlife's website and Trapper Education Manual. The ODNR's copyright policy states "Information presented on this (Ohio Division of Wildlife) site is considered public information and may be distributed or copied unless otherwise noted. Use of appropriate byline/photo/image credits is required." Wild-About-Trapping.com has taken all possible steps to comply with the ODNR policy and thanks them for the generous use of this information. We sincerely hope that young trappers will make the best of this information to increase their trapping enjoyment and success.

Home > Trappers education > You are here: Live traps explained