Home > Trappers education > You are here: Explaining the bodygrip trap
Explaining the bodygrip trap*
Bodygrip traps are sometimes called "killer" traps or "Conibear" traps. Bodygrip traps catch the animal around the body. These traps are designed to kill the animals they catch.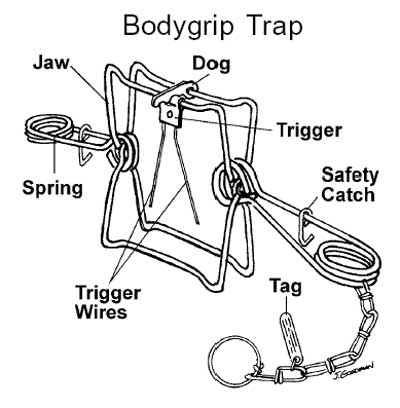 Bodygrip traps dispatch the catch, and animals rarely escape from them. This results in a quick, humane death for the animal. These are the advantages of a bodygrip trap, but there can also be disadvantages.
Animals cannot be released unharmed from bodygrip traps. For this reason, only the smaller size traps can be used on land. Laws and regulations limit the size of bodygrip traps that can be set on land.
The smaller size bodygrip traps are very effective for muskrats and mink. The medium size traps are good for raccoon, but they must be set in water. The largest size bodygrip traps are used for beaver and must be completely submerged under water.
*Editor's note: This information has been copied from the Ohio Division of Wildlife's website and Trapper Education Manual. The ODNR's copyright policy states "Information presented on this (Ohio Division of Wildlife) site is considered public information and may be distributed or copied unless otherwise noted. Use of appropriate byline/photo/image credits is required." Wild-About-Trapping.com has taken all possible steps to comply with the ODNR policy and thanks them for the generous use of this information. We sincerely hope that young trappers will make the best of this information to increase their trapping enjoyment and success.

Home > Trappers education > You are here: Explaining the bodygrip trap