I have 1 dozen used Victor Longsprings. I assure you, they are strong as ever, as I just caught myself after taking the pictures and I have to say, I cried. Now... granted, I'm a girl. But it still HURT, ALOT and I broke a nail. *sniffle*
So, stupid ungrateful traps! I dye you... I wax you... I take good care of you, and this is how you repay me? This is why I'm selling you!
*cough*
Anyway, as I was saying.
*~* -- I have one dozen victor longspring traps.
*~* -- They have anywhere from 16-24 inches of chain.
*~* -- One has a swivel on the end with a ring.
*~* -- All have rings on the ends of the chain.
*~* -- Two have just drowner locks,
*~* -- two have just nails,
*~* -- 7 have both drowner locks AND nails.
Why am I getting rid of them? Well, when I was shopping for #1's, I wasn't sure how many people still had them for sale, so I committed to buy a whole bunch. So I ended up with something like 64 #1's in assorted coils and longs. I need to thin my arsenal as I'll never be able to run the same size line as I used to, and the first to go are these babies.
New, you can buy victor #1 longsprings for anywhere from 95-100 bucks shipped. That's why I'm only asking 65.00 for these, plus 8.10 shipping.
I'm also interested in trades, so if you've got something of equal value, EMAIL ME AT
bulletsnbait@verizon.net
as I am NOT receiving pm's on here. If you try to pm me on here, I WILL NOT GET IT.
Below I've listed pictures.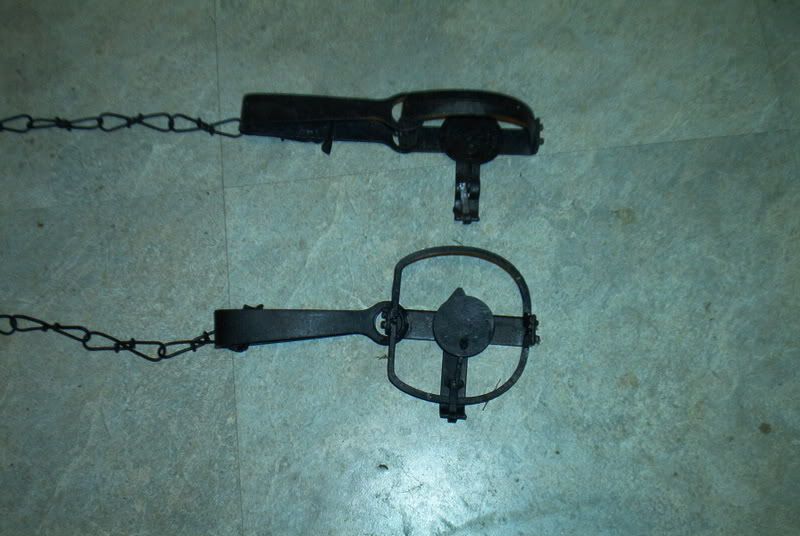 Last edited by Lil Bit on 18 Apr 2007, 15:18, edited 1 time in total.