Its been a very mellow trapping season this year. I never really set a trap in November. The coon over at one of my friend Ry's farmsteads beat up one of their corn fields this past summer so we tried a little pay back in Dec. I advised Ry on some placement and provided the equipment and he did the checking. We set 7 dps and 3 of my coon cubbies and got 1 coon the first night but then it rained pretty steady and then froze up so only got another one out of an old school house before he pulled most of the sets. But he did keep a couple of the boxes going and they scored this weekend with our little thaw we've had. The same time we initally set up at their farmstead, I had put in some of t-rick's bottom edge water sets with 110s in Ry's creek that flows along his pasture at his place on the edge of town. No minker but did pull 3 mrats over a week's time in this very low population stream.
This past week, I slipped more into the "low-intensity" action knowing that there might be 3-4 days of above freezing temps and holed-up critters might run so I had put out 4 of my cubbies in spots that can be checked on the way or from my work place. The bodygrippers are laying around on my bro's shelves out in his metal "barn" so might as put them to work and check them by only going a few miles out of my every other day. Pick off some fur now and then when there is a "warm spell" that happens. I seldom ever have problems with rubs or coons getting "springy" in January around here because I don't think they move around lot compared to other places.
So, this morning I had to get in my 2-day check so checked my handful of boxes going up by work. I ended up scoring on a nice fatty under the corner of a creek bridge. First critter out of this location. I still get big grin like a little kid when I see one of my boxes all askew. Sometimes they never hardly move them, sometimes there a ways from where they were set. I'm not real excited about the color on this one but maybe one less pheasant egg stealer around there (saw 6 roody birds this morning, too bad our season---last day today---started at 1000).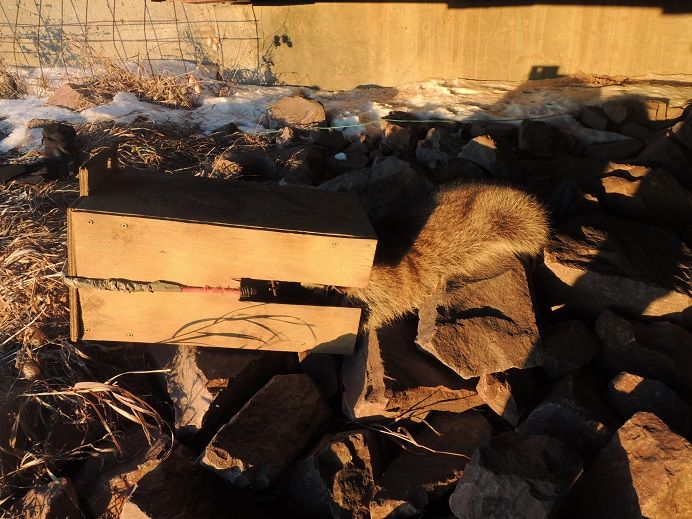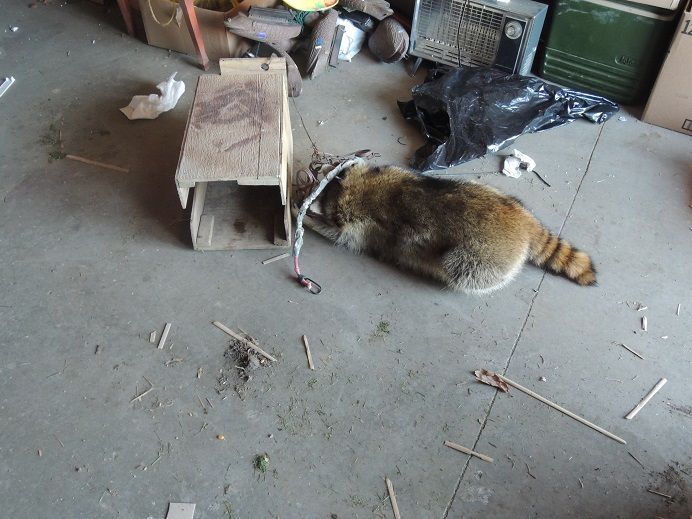 I put 3 boxes out at my bro's country place that he can check for me during the week. I put them out on Weds. at last light. He called today and told me that 2 were filled with possums. What's a se SD winter without a few grinners. Their cleaned up skulls are worth more than their fur. More pheasant nest egg stealers eliminated!
I can't do this from my desk...