Well folks, I finally got things in order to go down and do some trapping from Camp Winky and here are the results.
January 01, 2016
I loaded all my gear onto my truck and trailer.
January 02
Headed to Camp Winky and once there I opened the camp and unloaded my gear. I had decided that this year I would upgrade to having a TV, so I brought an antenna and equipment to install it. My son and a nearby camper came by and assisted me in getting it all set up. Actually with the antenna and a wireless remote to search for stations, I was able to get just over 20 stations!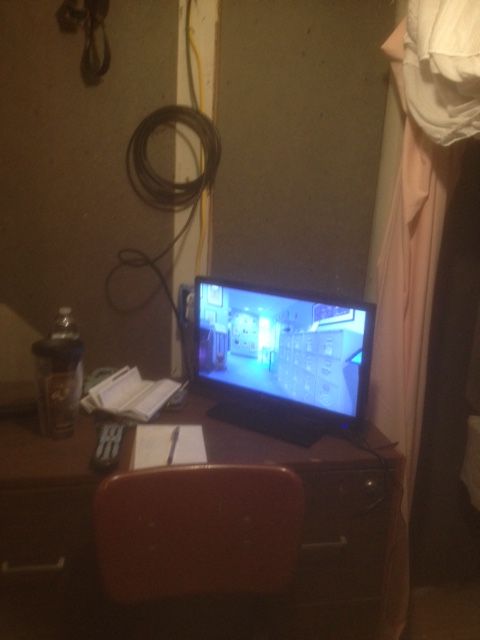 January 03
Spent the day putting out traps and snares.
January 04
Caught one coon. I also managed to catch myself, as I did a couple more times over the next few days.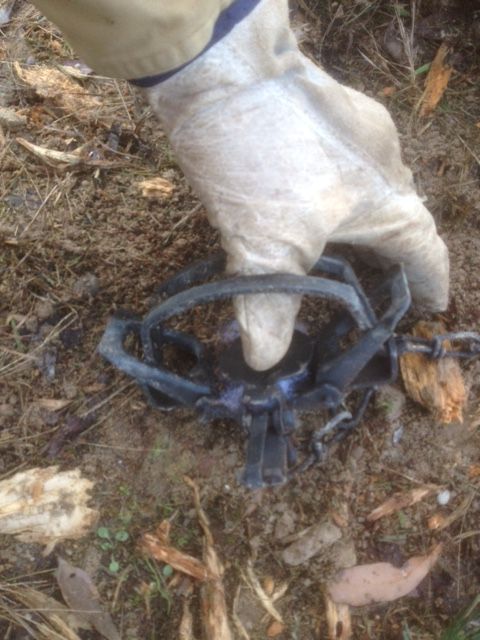 Set more traps and snares and skinned coon once back at the camp.
January 05
Snared a 41.5 lb coyote in a hog snare. This was probably the heaviest coyote I have ever caught. Also caught a grey fox. I skinned them both but only fleshed and boarded the fox, I put the coyote hide in the cooler for later.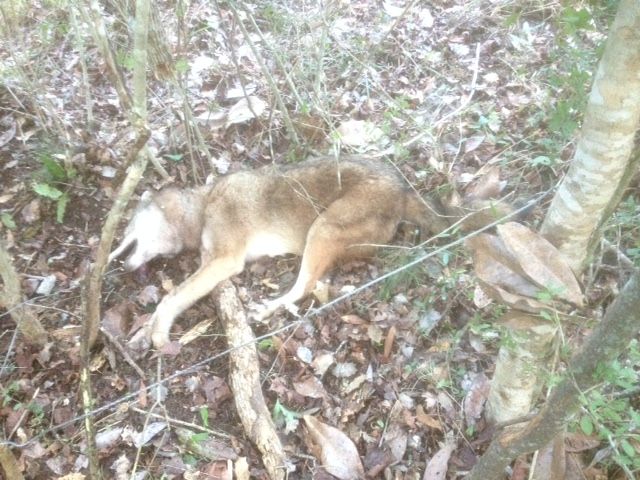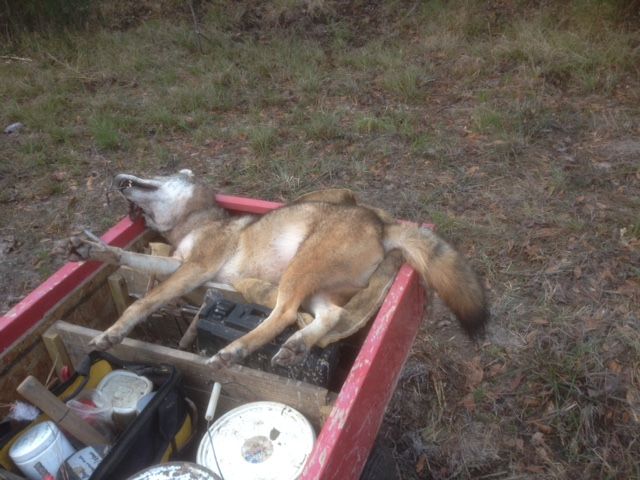 I turned the fox hide on the board before going to bed. I am starting to enjoy having a TV at the camp.
January 06
I caught a coyote and missed a coyote, also caught a cottontail rabbit and snared a boar hog that was dead when I arrived. He had some decent tusks. I pulled him out of the woods and then drug him away with my ATV. I removed his head with the jowls attached and the weight was 16.5 lbs. An old rule of thumb on hog's live weight is 10 to 1, so the boar would have weighed 165 lbs on foot.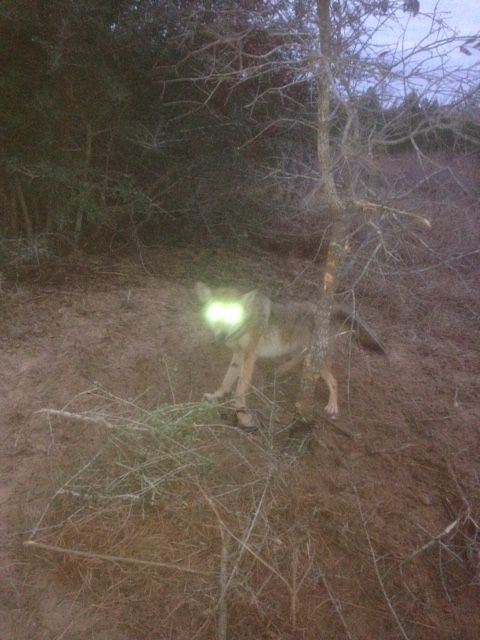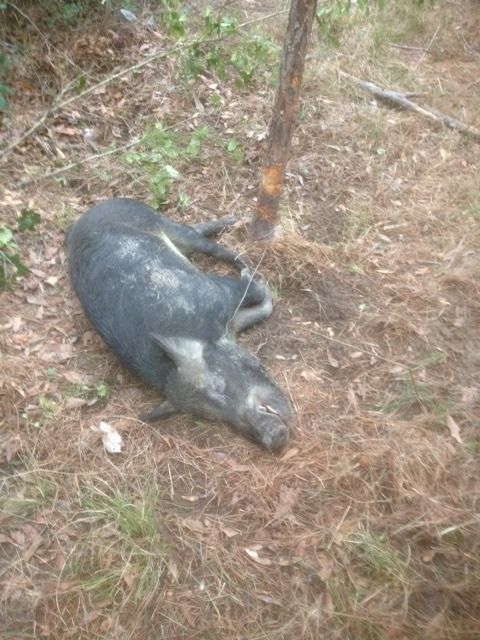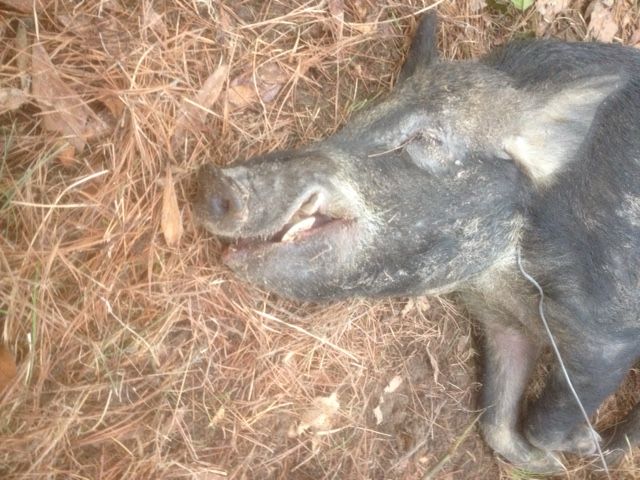 While back at the camp skinning and fleshing the coyote, I cooked most of the meat off the boar skull and only then realized at some point it had been shot through the mouth and had survived rather well. It had a bulled groove on the lower jaw and the tops of some teeth gone plus almost all of the teeth on the upper jaw and the teeth sockets gone, but I had seen no scars on it's head before cooking the meat off.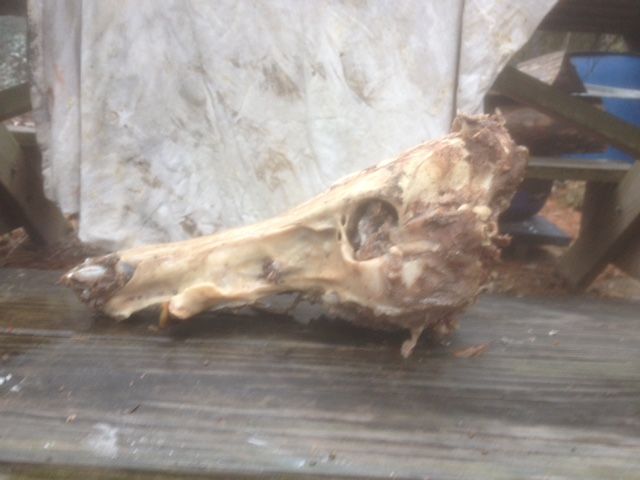 I had a couple of old trappers, Festus Williamson and CC Gore come into my camp for a visit. I always learn something new while visiting with other trappers. Plus we usually get to have some good laughs.
January 07
Lots of rain during the night which isn't too good for someone trying to dirt trap.
I caught a bobcat and two coons. When back to the camp I skinned the cat and coons, fleshed and boarded the cat hide and put the coon hides and meat in the cooler. I then fleshed and boarded the coyote hide I'd had in the cooler. Later I drove out to Festus' house to drop off the coon hides and meat in his freezer. He has a local market for coon carcasses. While out I went in to our nearest little community and got camp gasoline and ice for the coolers. Back to camp and some evening TV.
January 08
Big catch day, a coon, a swamp rabbit, a grey fox, and two possums! Back to camp and skinned, fleshed and boarded the fox. Skinned the coon & rabbit. I cleaned up and headed for the Houston airport to pick my Wife up as she was coming in from Utah. On the way out I stopped by Festus' freezer and dropped off the coon hide and meat. I got to the airport in time, picked up my wife, then another 100 miles back home.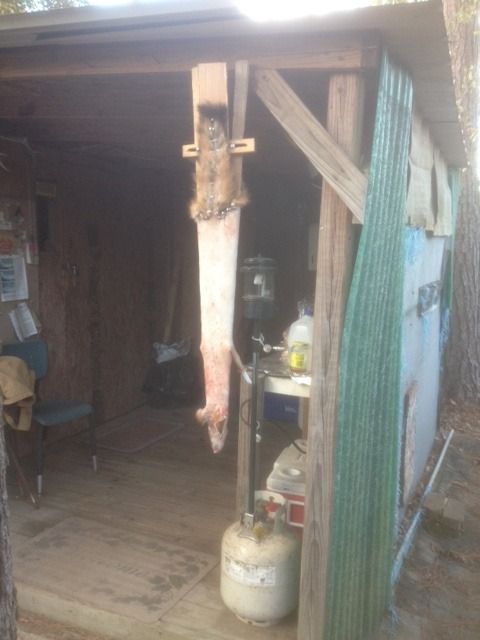 January 09
Left home for Camp Winky at 5:30 AM to run traps. Only caught two possums.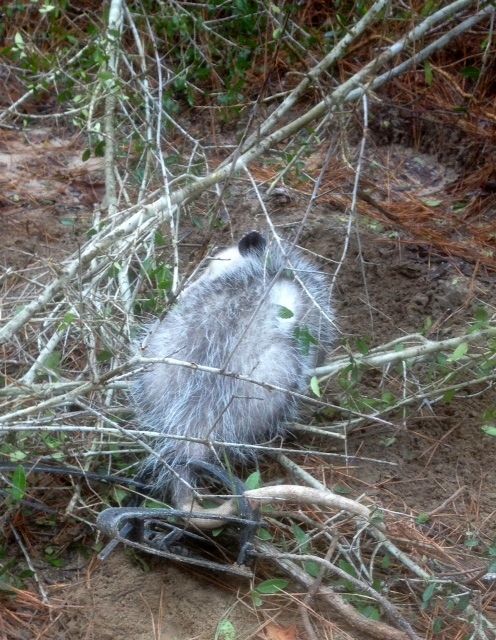 I got some more traps out, then back to the camp to work with the hides I had put up. I worked on my ATV trailer, which I am not using since I basically have all my traps out. I also made some adjustments on my Honda ATV. Cleaned off a years worth of pine straw from the roof of the camp. About dark I am getting all settled in for some TV and rest when the generator sputters and stops! It was very windy outside and not the most comfortable time to be working on a piece of equipment but I pulled the plug and cleaned it, replaced it but the generator was down for the count. So I had to revert back to my 12 volt lighting system, which the TV does not run off of.
January 10
Caught two possums, one vulture, two grey fox and one coon. Things were looking a little more positive after the generator fiasco last evening....until....I stopped to check a trap one mile from the camp and once done I get on the Honda ATV and NOTHING, it won't hit a lick! So, I get my gun and coat and walk the mile to the camp, get on my Kawasaki ATV and ride it back to the Honda, jump start it, then seesaw the two ATVs back to camp. Skinned the coon, placed the fox inside the camp, took the battery off the Honda. I then drove out and picked up Festus and we went to the next larger town about 20 miles away to get an ATV battery and a couple of spark plugs for the generator. Once back at camp I put the battery on and it cranked up, then replaced the generator spark plug and it still wouldn't crank. Festus helped try and get it running but it just wouldn't crank, but we did get spark from the plug. I took Festus back home and came back and skinned the fox and put their hides in the cooler.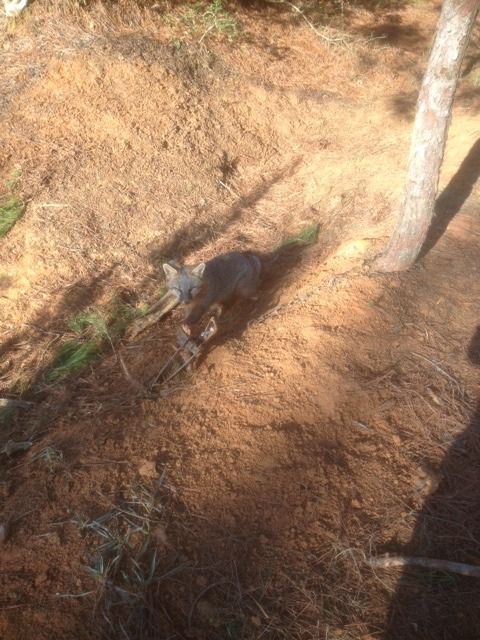 January 11
Caught ZERO. I did find fresh otter sign between my four coni sets that I have out for otter. I went and closed the camp, loaded the generator and took it 20 miles to the nearest dealer only to see they are closed on Monday! I then drive 100 miles back home and went by the dealership there and see they too are closed on Monday!

I went to Harbor Freight and purchased a little 800 watt 2 cycle generator. I had a meeting to attend in town, so I stayed the night. I did charge my auto batteries while there.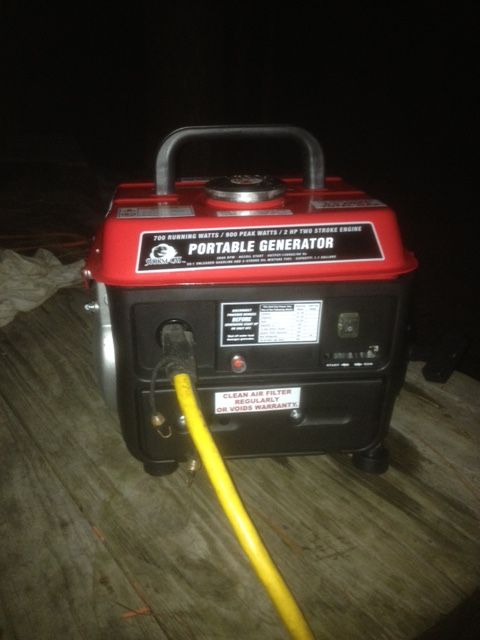 January 12
Headed for camp at 4:20 AM. Caught one possum, two coons, one coyote. Seems I had made another catch where I'd caught a fox earlier but I think it was a dog from all the sign in the area and the boot tracks of whoever stole the trap. Skinned the coons but not the coyote. I took the generator back to the local dealership and dropped it off to be repaired. On the way back I dropped the coon hides and meat off at Festus' freezer. It sure is handy to have someone nearby with real electricity. Once back at camp I skinned, fleshed and boarded the coyote and two fox hides. The little generator runs pretty good but has a terrible rattle at times.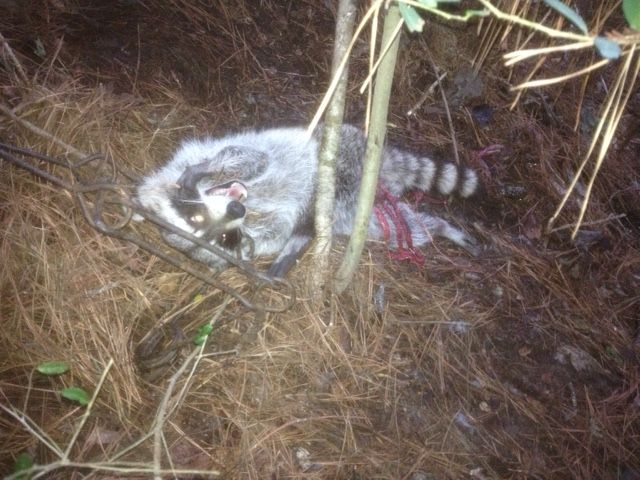 January 13
Caught two bobcats. Once back to the camp I skinned the cats, turned the fox hides and then fleshed and boarded the larger cat. An old friend came into camp to spend the night and run traps. We had a great visit and I put up the smaller cat while we did so. He had brought me two cats out of his freezer, one was a road kill and the other a hunter had shot. I hung them up to thaw. The little generator is still doing well, but takes spells of rattling.
January 14
We ran traps but caught ZERO. We moved some hog snares to what seemed to be a more active trail and set up a couple of bucket sets. Once back at the camp he and I compiled him a shopping list for trapping supplies he was lacking. He just retired and has quite a bit of traps but wants to get back into it. He had to leave. I cranked the little generator and wanted to see how long it would run on a tank of gasoline, one gallon. It ran exactly 5 hours! I turned the cat and coyote hides. I even watched some TV using the little generator.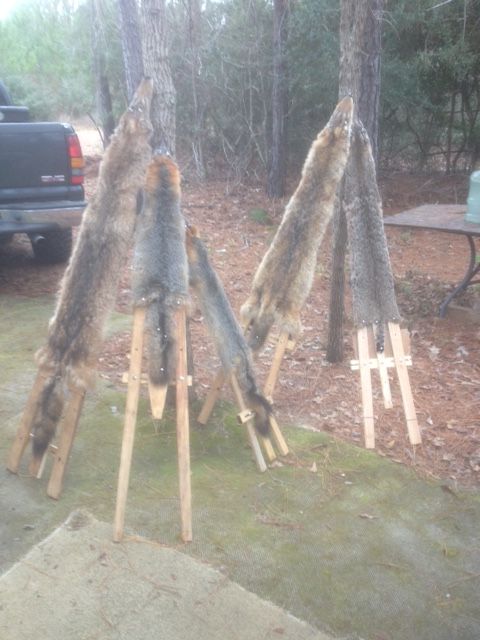 January 15
Ran traps to find a huge white boar hog in one of the snares I'd moved yesterday! He was alive and very upset. I had to hand load .22 long rifle bullets into my gun as it was already loaded with .22 shorts. It seemed that every time I would make what I thought was a deadly shot on the beast it would go more berserk! I stayed near my ATV and continued the shootout. He was snared by his snout just behind his tusk with 3/32 cable tied off to 1/8 cable. He would jump and buck like a wild steer but eventually I made the killing shot and he was done for. He was near a road and so I figured I'd just pull him a little more away from the road. I could barely budge him. I had to go get my ATV and hook onto him and drag him. My ATV started to bog down so I cut him loose and left him there. I did cut his head and jowls off and they would barely fit in a 5 gallon bucket. They weighed 30.5 lbs which using the rule of thumb scale, he weighed 305 lbs live weight!

I also caught my heaviest bobcat ever, 31 lbs. Back to camp I skinned the bobcat and the two that my friend JTW had left. They both will need some sewing. While skinning I had the little generator running a battery charger for my auto batteries. All of a sudden it just shut down. I looked over and the pull cord handle was lying beside it. I opened it up thinking I would have to replace the pull cord but found a nut had come loose and destroyed the pull cord assembly. That must have been the "rattle" I kept hearing. Oh well, back to the 12 volt system. I called my son and asked if he'd stop by a Harbor Freight on his way home and pick me up another little generator? He lives 11 miles from camp, so that should work out well. Later he called and said he had one and was on his way home from work and I could come get it. I headed out and on the way I got a call from the dealership that my Yamaha generator was repaired, so I go the 20 miles in to get it. They discovered that the inside screen exhaust filter was impacted with soot. Once that was addressed it cranked fine. So from there I go by my son's and pick up the little generator. I got a shower while at my son's house, not that I really needed one.

Back to the camp and cranked both generators.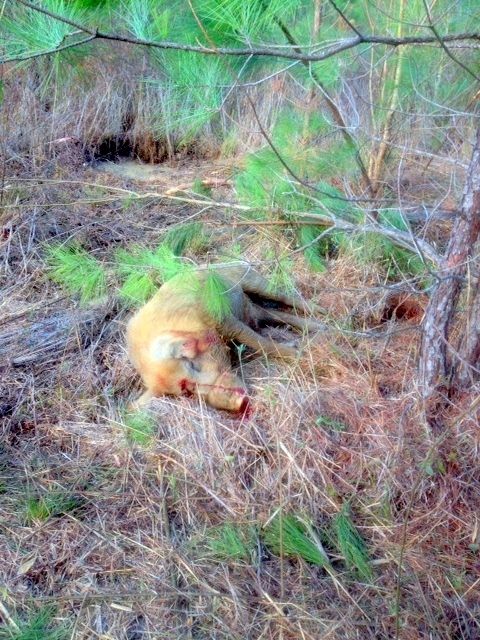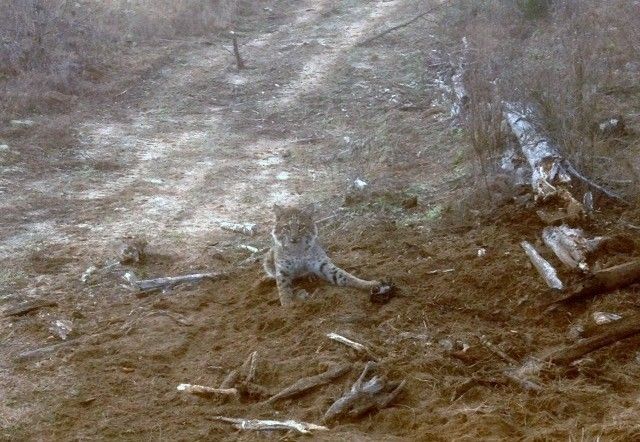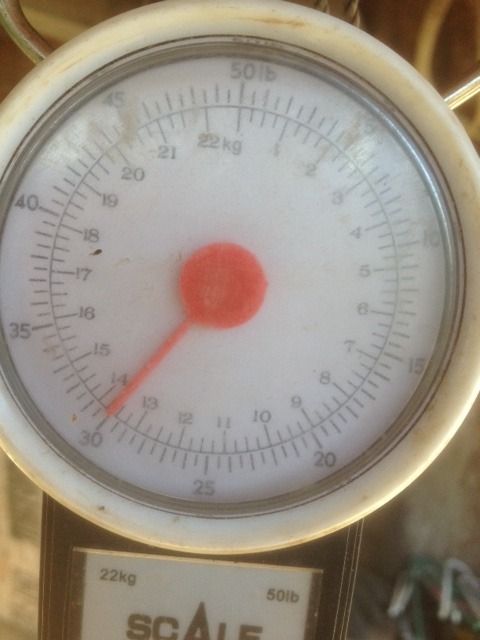 January 16
Finally caught a large otter in one of the coni sets. Also caught one coyote and two possums. Back to camp, skinned the otter, fleshed and boarded the hide. Skinned the coyote and put it's hide in the cooler, I was running short on time, I had to go out and meet my Wife. She'd driven down and we had supper together, then went to a hunting lease meeting. She took the broken generator back home with her. She couldn't stay due to one of her sisters was on her death bed.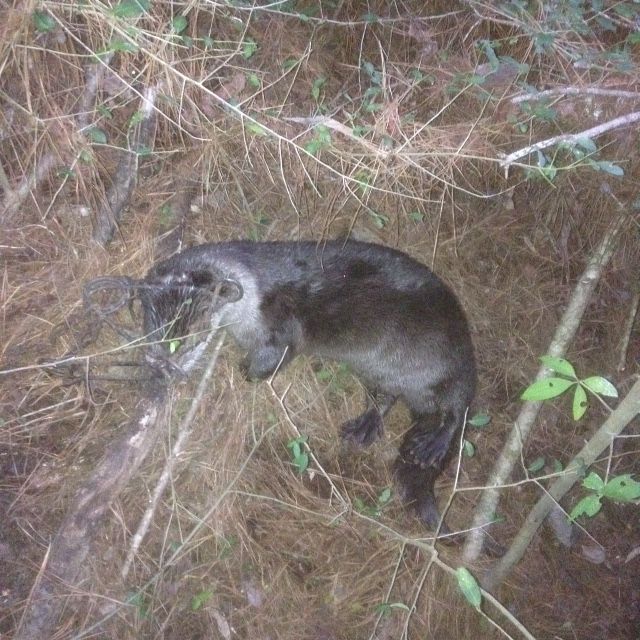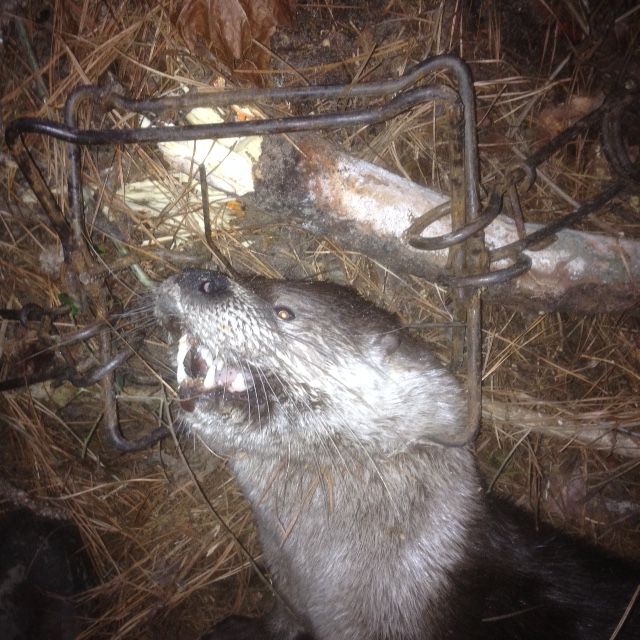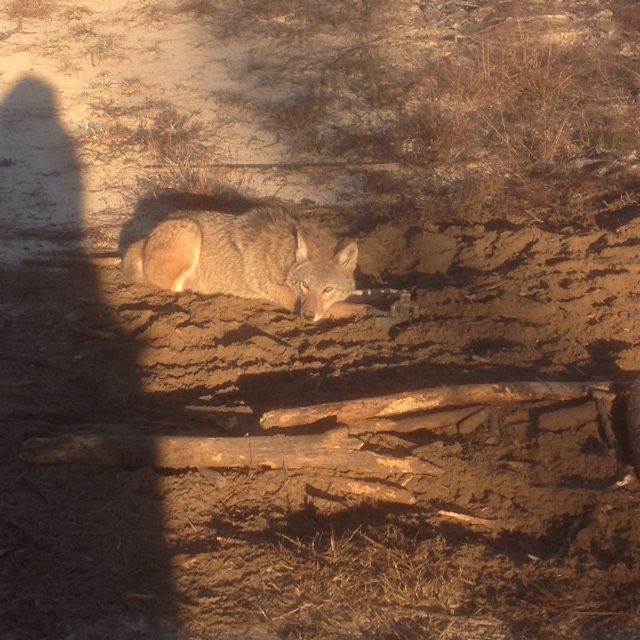 January 17
Ran traps and caught a coon, a possum, a swamp rabbit and a vulture. Back to camp, skinned coon, fleshed coyote hide that was in the cooler, fleshed the two gimme cat hides, then sewed them up. One I split open and stretched flat for a camp rug and the other I put on a board. I removed some of the finished hides from stretchers.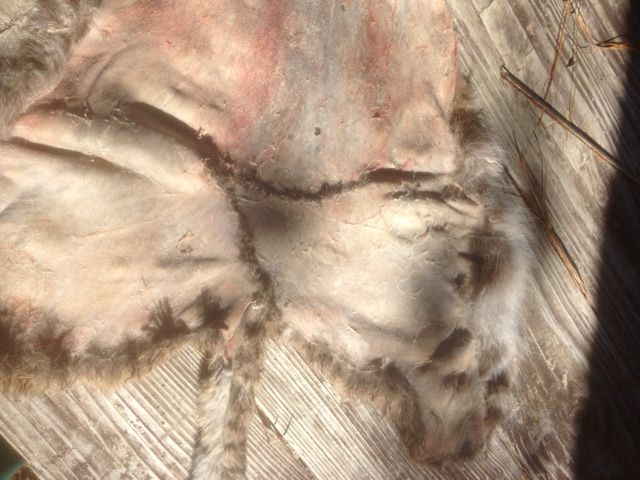 January 18
My Wife's sister passed away, so I will start pulling traps and getting things ready to close camp and go in. I caught three coons, saw that an otter had walked through my 330 set. Pulled some traps and back to the camp and skinned the coons. I loaded a good bit of gear and traps on truck, loaded Kawasaki on trailer and headed out. I stopped by Festus' freezer and picked up what hides I had in there and left the coon meat. Once home I unloaded the stuff I'd brought from camp.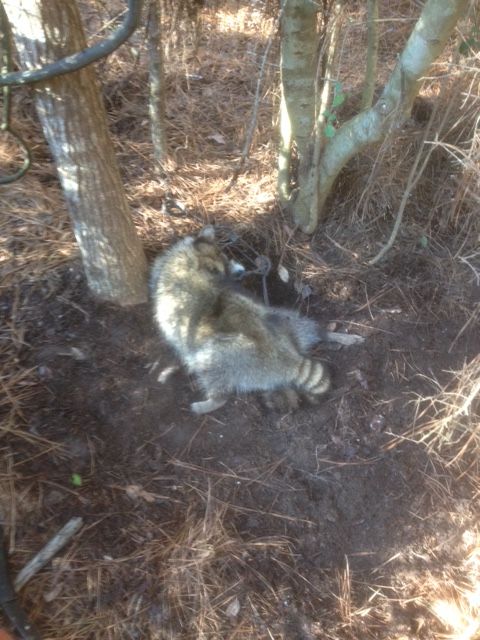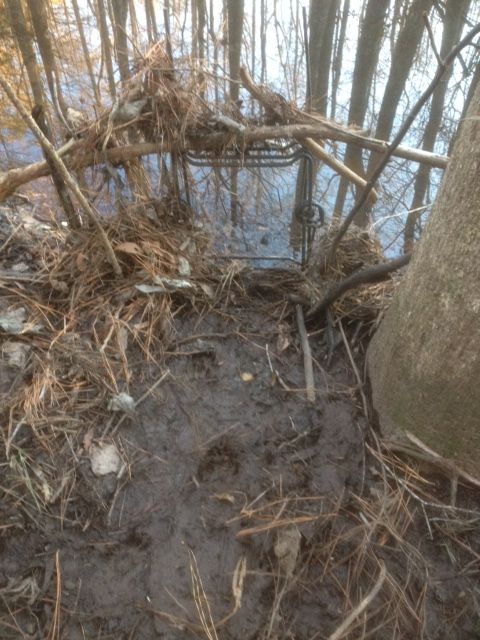 January 19
Left home for camp at 5:00 AM, ran and pulled all traps that I had left set. Caught ZERO, back to camp and finished loading gear and shutting down camp. I headed for home just after noon. Once home I unloaded everything and put the Honda ATV by shop to begin working on it. Seems the rough roads caused some of the frame bolts to work out and broke one of the brackets.
January 20
Cleaned traps and worked on Honda ATV. Looks like she is ready to go another round when I find another area to trap.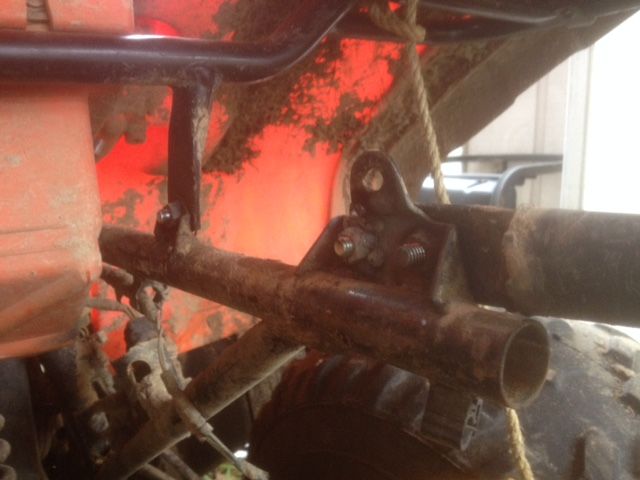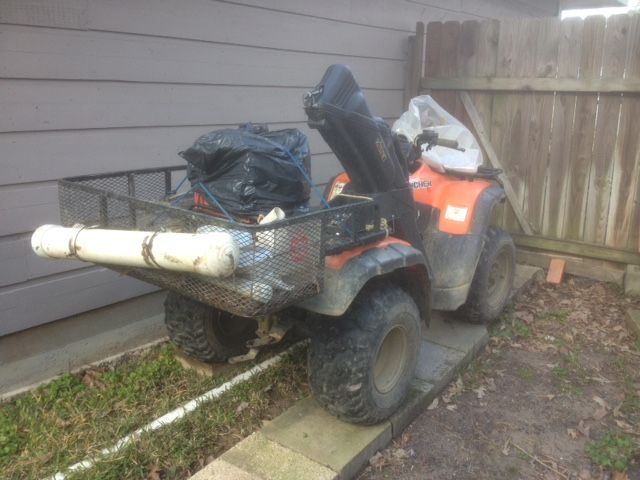 I apologize that this outing wasn't as interesting as some have been in the past. Seems there were many distractions this time. But I did learn more things about the great outdoors and life on the trap lines. I noticed a cacti that grows in very poor sandy soil. Once mature it is donut shaped and feels like some sort of sponge.
I also was able to see in the sandy soil that a coyote had approached a blind set that I'd caught a fox in the night before and the coyote turned and walked away, refusing to go through the set.
We do not have snow to read tracks in, only sand and mud, so it is neat to be able to see what has taken place at some of our sets.