I went out and pulled the rat sets that I had soaking for a day when we went fowling on Sunday. Overall, the entire hunt and trapping adventure was basically a bust. I really didn't expect the rat effort to pay for its self but was disappointed in my ratio. At least I didn't get blanked and recovered all my gear. One set was a 110 where I had driven the stake down below the water line. Another trapper came after me and flagged the hut so that was a bit of an awkward moment messing around near his flagged stake (his set didn't look very good). I thought first he had taken my trap (SD doesn't require any id on traps) but I just had to kick around more to find my wood. The irony of the whole situation was the rats I did get I got in what I thought was the most marginal slough. Funny how that happens.
My 2 very expensive mrats. At least they weren't dinks.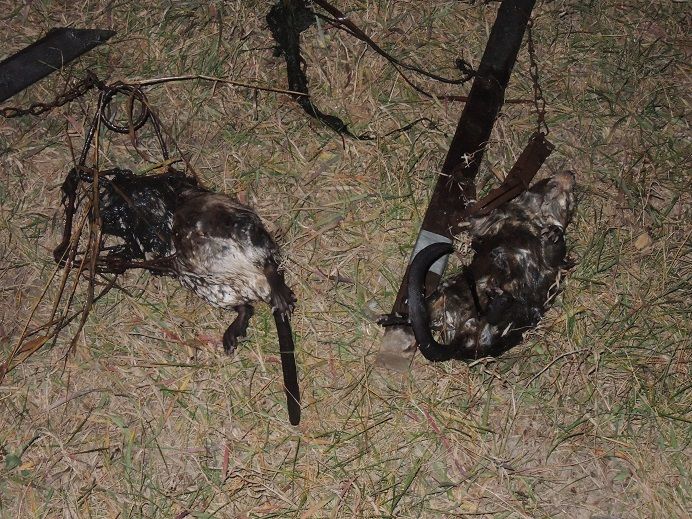 I think after getting this emotional scratch itched, I'm not going to mess with more than an occasional setting for rats unless the situation is primo in either an open water or ice hut trapping situation such as I had in the open water season of 2011. Slough mud and me aren't friends anymore for so little return.
Plan to lay out some cubbies tomorrow afternoon. Sounds like a nice day to do it. I was going to put in legholds on Vets Day but big storm coming in that will start with thunderstorms and maybe go to snow. No point getting rained out on the first night steel is under the dirt. Probably adjust my Thursday vacation day to Friday and maybe things will have dried off a bit by then.
I ended my evening by driving up to the country buyer who I used to sell to before going to the auctions. He's a big Fur Harvester guy. I was buying some rebar stakes and other supplies from him that would cost a lot to ship but really I wanted to drive around rather blindly on numerous gravel roads getting to his place in the dark (his place is on a "county highway" that is gravel). He thinks a guy can still makes a "few nickels" this year on the better quality fur but thinks next year will be worse. He thinks the US economy will follow the rest of the world's softening of growth. We'll see if that happens but that may be the year that I sit out again. As Dirty Harry said in
Magnum Force
, "A man has to know his limitations"...