this is not the same as a steak and cheese. Steak and Cheese have the cheese either lain on top or mixed and melted in the meat. A cheesesteak is different.

2 Rear Quarter Venison Roasts (skipper size)
1/4 C butter
4 TBS Flour
1 1/4 C Half & Half
2 C Sharp Cheddar Shredded Cheese
2 TBS Yellow Mustard
2 TBS Salt
1/2 Tsp Pepper
1 Green Pepper
1 Large Onion
8 Portabello Mushrooms
Salt
Pepper
Oil
8 Fresh Italian Rolls
Balsamic Vinegar
So, first thing I do is take two small venison rear quarter roasts. Then, I remove all the membrane and fat so that all you have left is red raw meat. Then, shave the venison thin. Not so thin as it comes apart in your hands, but thin enough that when you hold it up to the light, it turns light pink, nearly tranparent. Set Aside.
In a saucepan, take a quarter cup of butter and melt it down. Careful not to burn it! Then, take 4 tablespoons of flour and whisk it in to create a yellow pudding-texture mixture. Then, add 1 1/4 cup half and half. Whisk it in and boil it down until it's a thick, creamy alfredo. Add 2 cups shredded sharp cheddar cheese. Add 2 TBS salt, 1/2 tsp pepper, 2 TBS Yellow Mustard. Whisk and set aside.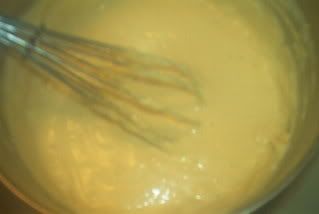 In a fry pan, take 3 TBS oil, and saute sliced green peppers and sliced onions. When they're almost done, add the sliced mushrooms. Season with salt and pepper.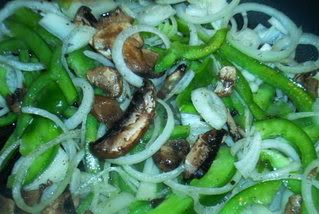 Add Shaved steak and a little bit of balsamic vinegar. Salt and pepper to taste.
Take a fresh italian subroll and slice it down the center.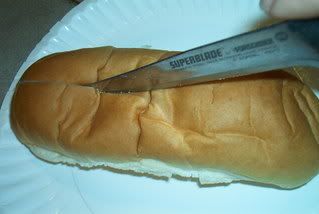 It's important to use a sharp knife so as not to squish the bread!
Religiously spread the cheese sauce which has now thickened to a nice warm creamy paste.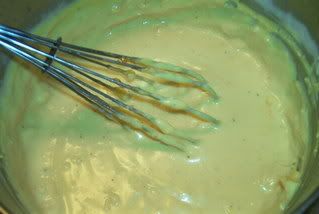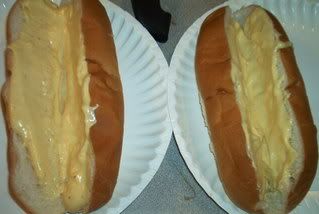 Add the steaming hot steak, mushrooms, onions and peppers and voila! A nice VennyCheesesteak!