It seems like I learn the most about a coyotes habits when I track them in the snow. We have about a foot of snow left on the ground, making it good for tracking coyotes.
The first coyote I tracked I knew had been coming around because I had found his scat before the snow hit. I went to the small field where I predicted he would hunt, and sure enough I found his tracks. He didnt come in on the trails I thought he would. He came straight down off the hill, not using any trails at all. While in the field, he didnt use any trails, he was random all over the place. he managed to sniff out every piece of deer bone in the area.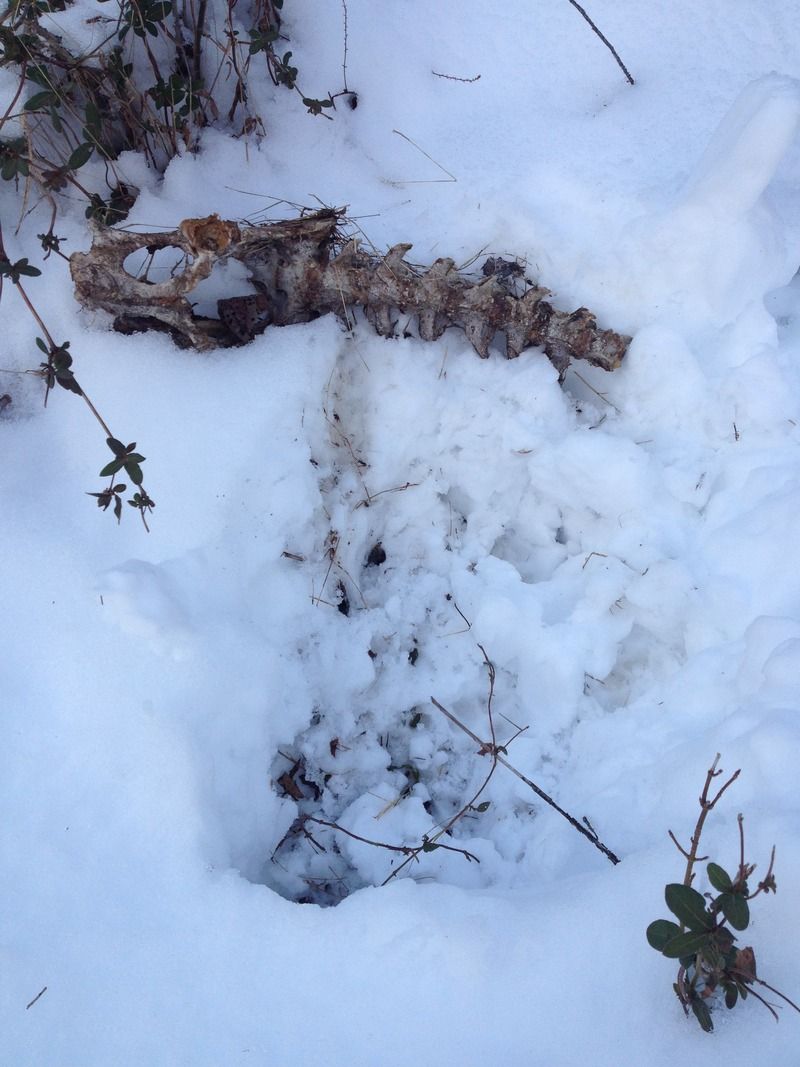 Here are some more pictures, as you can see....he is all over the place not using any trails.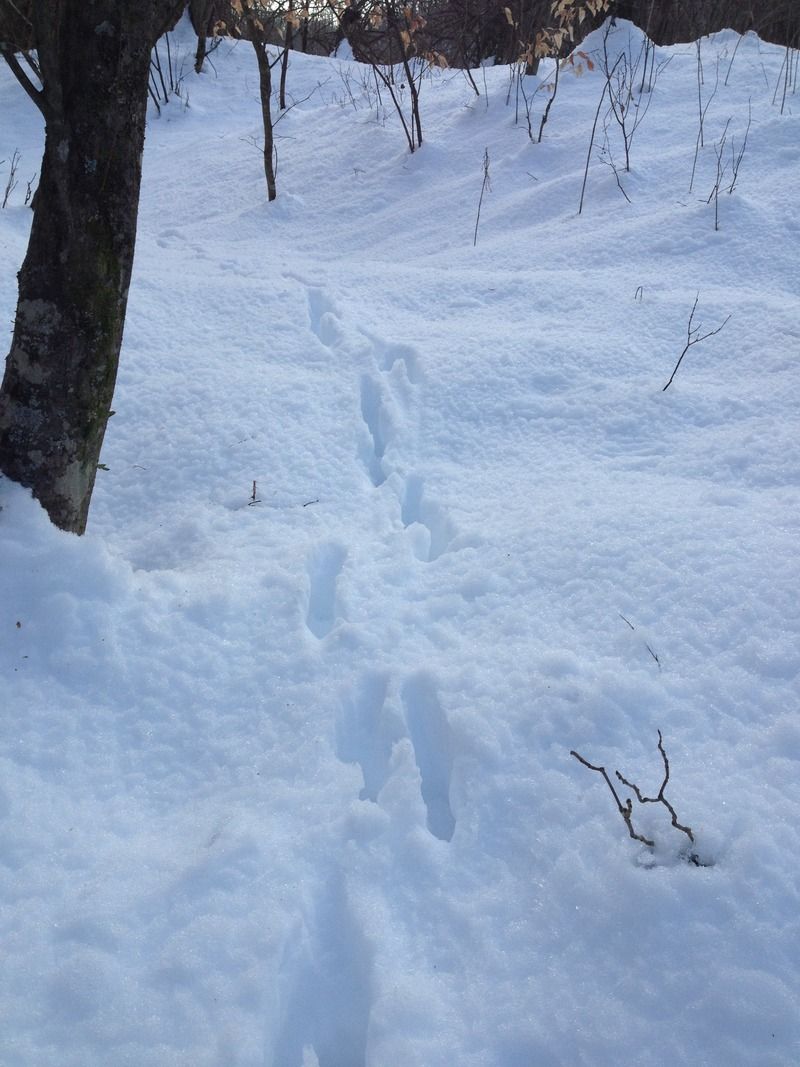 This is a spot I found interesting. To the left is deer tracks where a deer ducked down about knee high to get under the sticks, obviously the easiest way to go. But the coyote chose to go to the right, about half way up to my knee. He really had to crouch down to get under. Not sure why he did this when he had easier options.....
This next picture is the coyote traveling in a low spot with mounds of dirt on both sides, maybe an old trench from the coal mining days thats eroded. Im thinking a good place for a snare, centered in the trench. The trench is about 20 feet long, just a small saddle.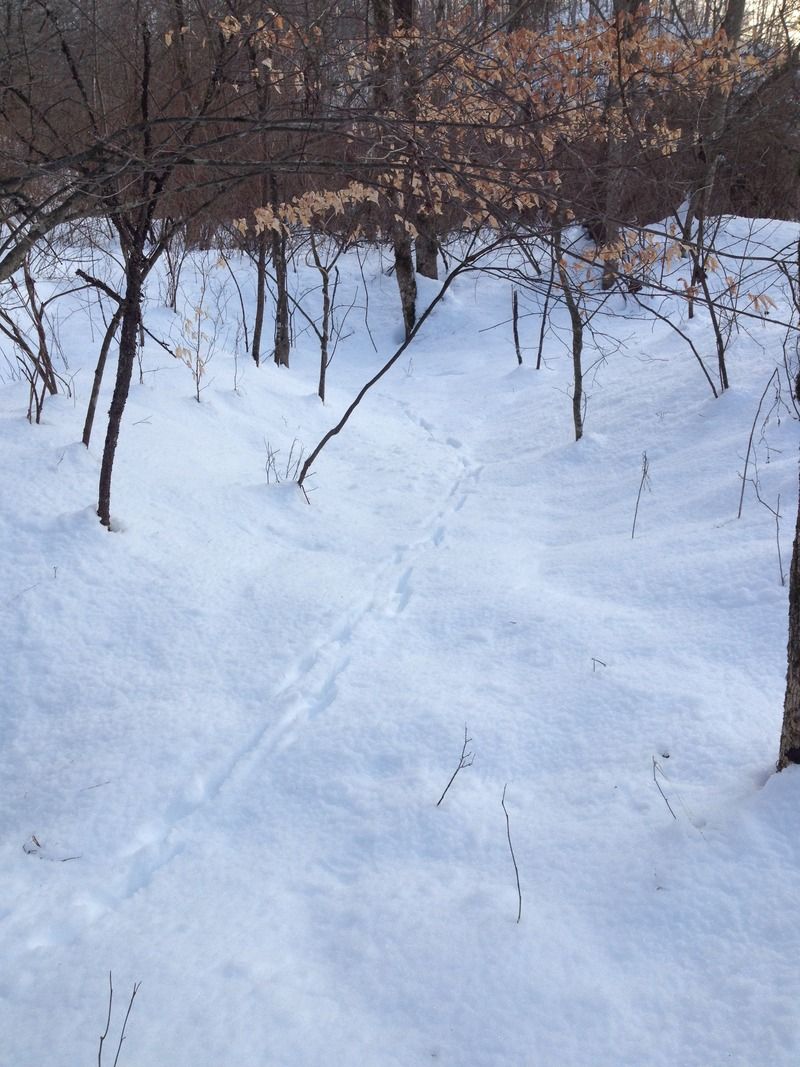 I walked to other side of the hill, and I picked up some coyote tracks coming down off an old logging road. The coyote came down off the road, crossed the creek and went straight up a creek/draw and onto the other ridge. Im thinking I should hang a snare where I see the tracks. The tracks on the left is coyote, the tracks on the right are from a deer. I've noticed on rutted roads like this the coyote travels the high spot EVERY TIME. Never in the bottom of the rut, ALWAYS on the highest spot. Not sure why, you would think he would take the low spot for cover and concealment.
As of right now I plan on hanging some snares where I found the coyote tracks thinking the coyote will come in and out the same way. He went to those deer pieces as if he knew where they were, like he found them before and was coming back for further investigation. Unless of course he was just walking random and smelled them through the snow. In regards to the logging road, I will hang snares where I found the tracks. The snow has been there almost a week, and the tracks were fresh probably from last night. That makes me think at least once a week a coyote comes through. How would you guys handle this? Any thoughts or opinions? I've snared two coyotes so far, and I want my third, and fourth coyote