A couple of WAT members were asking what step down I use, so here it is. It is a Charlie Robbins step down. Most step downs are a straight step down with the trap laying flat. The Charlie Robbins is where the trap is on a slant when set. About 20 degrees or about that. I like to use it at erosion slips or at elevated spot the best, but does work just fine in flat ground also. There is no need to find backing for this set. They have to come from the front side to work it. This step down will work with any kind of a hole and different styles. I use the horizontal hole. I don't like a vertical hole. Rain, snow and ect. can fill it up and you are out of business. With a hole straight back it is in full operation at all times. I will try to explain this the best I can with the pics.
Where the hammer is I will make the set. Notice the elevation.
I start out by digging a notch 3" wide and can be wider, but no wider than your trap jaws. Dig it back about 8" to 10". The bottom will be about 8" deep for the trap bed and bring it back about 12" tapering up to ground level.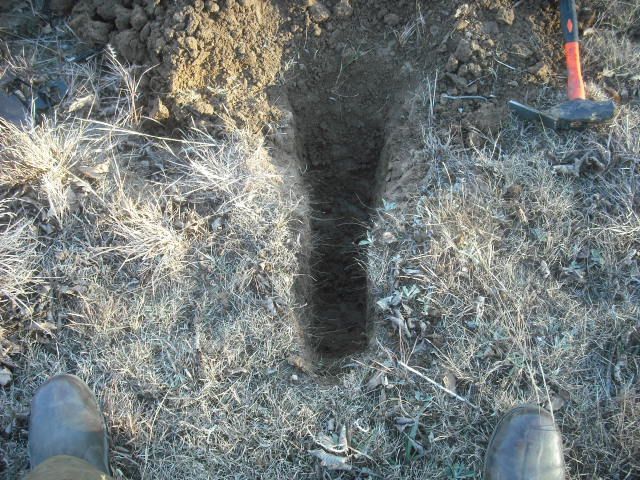 The hammer in the pic is for a guage so you can have an idea of how far back the notch is.
In this pic you can see how the trap jaws are touching the walls of the trench. Very important. If you do get it to wide there is ways to fix it though. So no need to worry. I will explain that later.
Another angle of trap in the bed. No wider than the trap jaws.
Now for the hole in the back of the notch. A 6" to 8" holes is all that is necessary. Can be deeper though. With the notch being 8" to 10" deep and the hole is 6 to 8, that puts the bait 16 to 18" away from the yotes nose. He can in no way get a free meal with out going over the trap.
The trap bed in the trench should be just on the outside of the notch. Drive in stake.
Put enough dirt back into the trench for trap bed and so the trap is at proper angle. About 20 degrees. Does not have to be perfect. It's not rocket science.
This is when I add my first layer of antifreeze.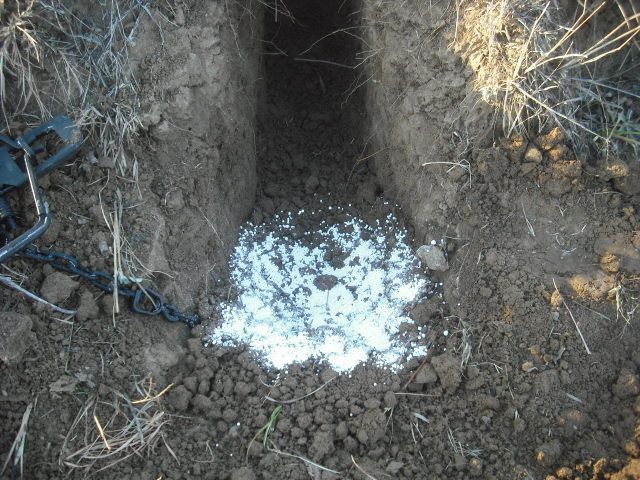 Put trap to bed.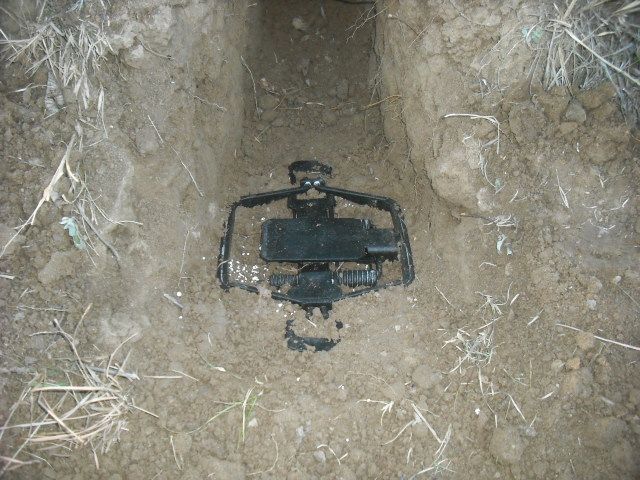 Another layer of antifreeze and pan cover.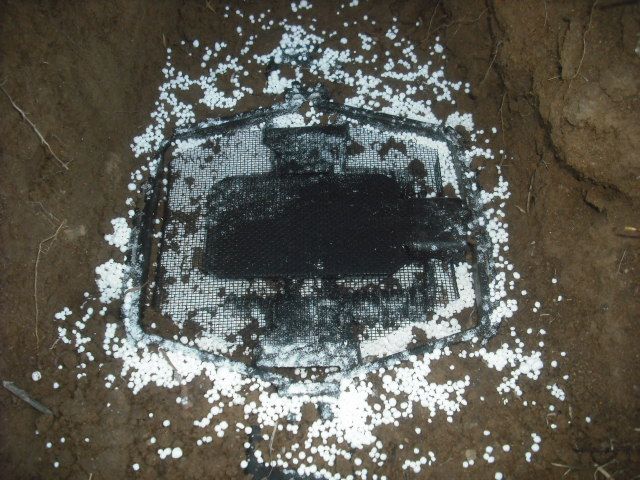 Dirt over trap.