My friend "Thor" is not your typical farmer around here. being organic and smaller time (I think he farms over 400 acres, most "Corn Belt" farmers around here probably average operating a 1,000-1,500 or more). This is also the second year where he has planted no corn whereas corn is the leading crop for most of the typical guys. Thor doesn't make a lot farming then again he doesn't spend a lot to operate his farm either. Most guys around here spend hundreds of thousands to several million to make a profit of what a typical-to slightly above typical middle class family earns in a year. There are exceptions of making more profit than most as well as exceptions of when crop prices are high and they make big bank. But most years aren't boom years and some years a busts (costs exceed return). With corn prices this year, its looking like a bust year, especially for guys who have to rent a proportion of their land base. Thor doesn't rent any land.
So, when viewing these pixs, remember he is not the typical farmer around here. Photos were taken about 10 days ago.
Fence line shot, Thor's neighbor's soybeans on the right, his on the left. Thor never gets his crops in overly early. The weeds are also starting to show up in his beans. He cuts up several of his parcels into smaller sizes so why he doesn't whack the weeds, such as volunteer wild sunflowers, out by hand a couple hours when its cool in the morning and get a better soybean yield with a cleaner field, I've never been able to figure out. If a guy is going to grow a "premium" niche crop like organics, why not try to get more of it...?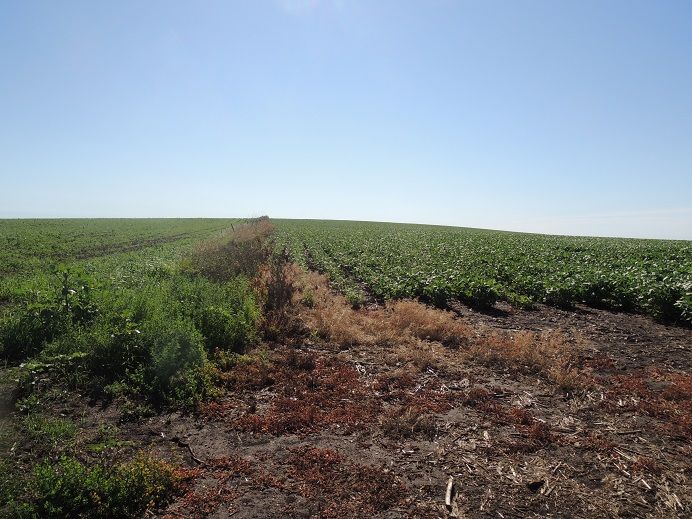 slightly different angle of his south soybean field.
Just north of this parcel he planted some oats. Not a lot of guys plant small grains around here anymore. I don't know if he planned to cut for green straw as the heads were filling out of not (he did this with some barley last year). He cut it about the middle of June. He is one of the only guys who plastic wraps round bales of hay or straw around here, a practice I know is a lot more common in the eastern U.S. They were loading these bales onto some semi-trailers a couple of days ago, the buyer I guess is an organic dairy farmer.
About 2/3rds of a mile north, there's a fence line separating on of his alfalfa fields from another soybean field. Thor's cropland this year has been in alfalfa, soybeans, and the one parcel of oats that he cut for green straw. He won't have much to land to harvest in the fall so if he busts his combine head on massive amounts of dried wild sunflowers, he can probably get it fixed before he loses the rest of the beans. He's an "interesting" dude...