My boys went on a catered youth pheasant sponsored by my neighboring county's CO for the kids that graduate from his hunter's saftey class this year. South Dakota has worked on ramping up how its pheasant season starts for the past number of years (a weekend set aside for youth hunting, then a resident only long weekend held only on public land, and finally the full blown free-for-all pheasant opener when lots of $$ are exchanged).
Anyway, the kids got to hunt pheasants on a commercial "preserve" operation located about 40 miles north of here. A full blown pheasant preserve can be open longer than private land where people are charged to hunt. A preserve can be open Sept. through March (the normal pheasant season is the third Sat. of Oct. through Jan. 1) but has to release a certain number of birds during their season in a compromise with the state that their improved habitat will also draw wild birds onto the land. Before the major push of commericalized pheasant hunting in the 1990s, there were few if any raised birds released on private land. Bottom line for this hunt, however, was that I didn't pay anything except the gas to get to the location.
Anyway, there were about 10 kids involved in the hunt, 15+ parents and adult "guides", and about 6+ dogs. The kids were split up into 2 groups. There were a few too many advisors and dogs involved for my liking and with a pretty good wind the birds were sitting tight (or the owner hadn't released too many birds for the habitat that we walked.) The total birds gotten by the kids was 7 and my 12-year old got 3 of them. I think the kid is a natural and probably will out shoot me soon (I never limited out on pheasnts at 12-years old). My 13-year old had a couple of shots and would have had a few more better ones if the kids would have been allowed to turn behind them to shoot but the leaders didn't want brand new hunters to pivot and shoot (I was ok with that, I guess kids got to walk before they can run).
So, fresh pheasant meat tonight, as well as skinning out one of the birds for a possible taxidermy mount (a guide rung the bird's neck so I'll have to see how many feathers fall out when I wash the pelt). We also watched one of the guides clean the birds by making cuts of the skin of the wings and the breast and then stepping on the wings and pulling up that in the end seperates the breast from the rest of the bird while leaving the feathers on the wings for legal transportation (sex id of the bird). Granted, the lower legs of a pheasant can be sort of tough and get shot up a lot but the thighs tend to be good (these guys were throughing all the thighs and drummies away). I also like eating gizzards, so I grabbed the gizzard of one of Tony's 2 cleaned birds and held it above the garbage can while I pulled my lock blade out of my pants and then opened the balde with me teeth (I wasn't try to make a statement or anything but I'm sure these guys had never seen a knife opened in this manner or at least not a common day occurance

!).
A couple of pixs. There's all the kids with their 7 birds. It was sort of the cold and blustery morning so they're bundled up pretty good. The girl in the purple is from our church and I got her signed up late for thsi hunt. They raffled off one new 20 gauge pump and she ended up winning it!!
Here's Tony with his 3 birds. His little buddy is the younger brother of the purple coated girl and loves hunting but can't shoot yet. He carried 2 of Tony's birds in the back of his orange vest and collected spent shotgun hulls. He had a blast!!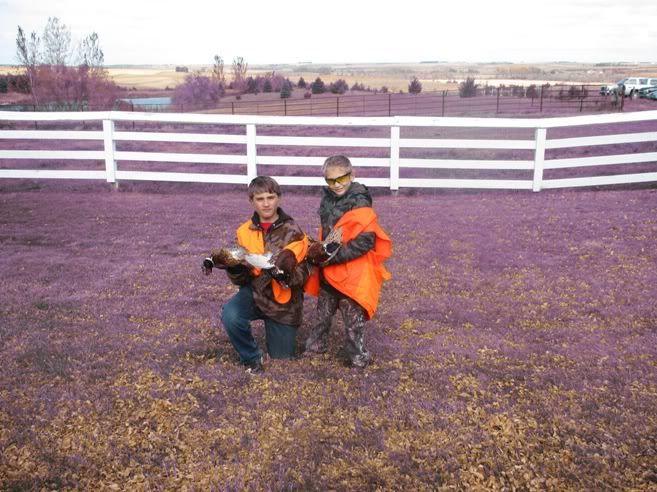 Hopefully, I get the boys out for some more typical action later after the craziness of the opening weekend gets done in a couple of weeks...