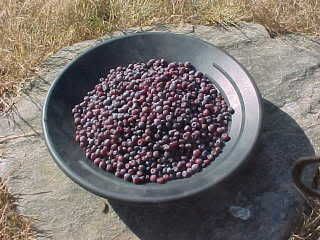 Here's one Cat will love. 'Tis the season to pick berries! Wild cherries and berries - you name it, they're ready to be harvested. I have tried many different "berry containers" while picking but I guess my favorite is the gold pan. Countless times while picking, I have lost berries to the ground below. A large gold pan held beneath the berry bush prevents such losses. I can strip several berries at a time from the leaves and simply let them drop into the pan below. This pan also allows easy removal of twigs and accidentally dropped leaves as well.
For easier carrying and less stress on the wrist, I simply drill two small holes (opposite each other), insert and fasten a wire to both ends for a handle. A six inch piece of cut garden hose (preferably an old one - not the wife's new one), will make holding this wire handle a bit more comfortable if the wire is strung through first before fastening.
Why not begin your day with freshly baked berry muffins, berry pancakes, or toasted berry jam slices. I guarantee the effort in picking such wild berries, will be as equally rewarding as gold dust, itself.