It been a cold spring and start to summer on the Lake Michigan shore. A friend of mine took my boys and I out on the "big pond" for some Lake Michigan sport fishing. The day was a bit on the slow side and ended the morning with one Lake Trout in the box and two others lost.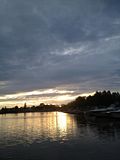 The sun just starting to come up over the trees as we headed out.
Average sized Laker (Biggest i'v ever pulled in about 8lbs)
My oldest son Nick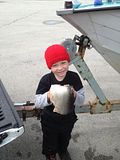 My youngest son Logan. He was afraid to hold the fish before it was filleted.